Image: Pexels
For most businesses, driving traffic to the e-commerce site or platform is a primary goal of any marketing strategy. However, once you have the volume coming in, not getting a conversion out of that traffic is actually even worse for your business!
There can be a variety of reasons why a customer may be visiting and browsing your e-commerce site and end up leaving with an empty cart. More common ones are:
Your site is hard to navigate
Product or service description, proof points and photo/video quality are poor
Weak copywriting that doesn't convince the customer
Customers can't relate to your brand
Poor FAQ support or information centre
Difficult checkout or shopping process
Expensive shipping
Your site or platform isn't mobile friendly
With an idea of what the deterrents are, you can strengthen your overall activation strategy and cover the pain points. You would be surprised to learn that most of the issues or challenges that are dragging your e-commerce conversion rates down are actually rooted in the same cause – which means that deploying the right tactical measures can go a long way in boosting your conversion rate.
But first, let's clear out the fundamental understanding of conversion rates and how it works.
What is a conversion?
According to Shopify, a conversion is an event when someone takes an action on your website that you wanted them to take. This could mean purchasing a product, signing up for a newsletter, or scheduling a consultation. A conversion can mean different things for different businesses, so be sure that you're aware of what kind of conversion is more relevant to yours.
Conversion rate, on the other hand, is the percentage of the total number of visits to a website that result in a conversion action. It's expressed as a percentage and calculated via a simple formula:

This simple formula will help you calculate the average conversion rate. Image: Wall Street Prep
For extra clarity, here's what you need to remember about the formula: Conversion rate = the number of conversions / total number of visits to your site in the same period of time.
How do you know if your conversion rate is good?
Benchmark data comparison of your e-commerce conversion rate is always a good idea to know where you stand – not just amongst competitors in the industry, but for an overall understanding of regional and local market trends that impact your overall performance.
Below are in-depth benchmarks compiled by Smart Insights:
Conversion rates benchmark by region:

A breakdown of conversion rate by region. Image: Smart Insights
Conversion rates benchmark by industry: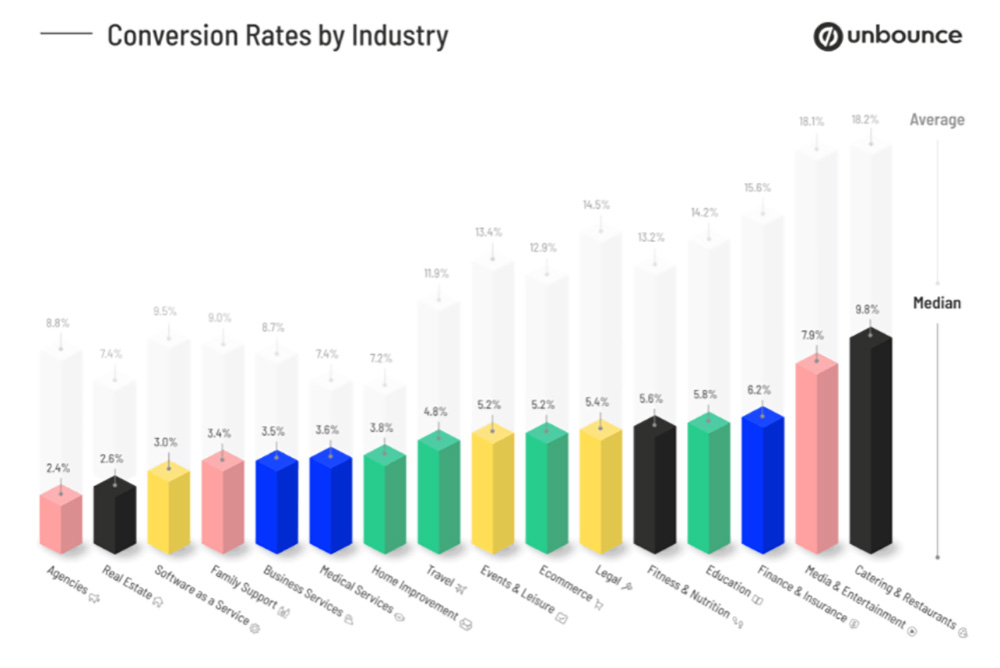 A breakdown of conversion rate by industry. Image: Smart Insights
If your numbers are looking close to the market benchmarks, that means you are trending well. If they are not, then pay special attention to the next part of this article as we reveal the secret sauce: conversion rate optimization (CRO).
What is CRO and how does it work?
As defined by HubSpot, conversion rate optimization is the process of creating an experience for your website visitors that will convert them into customers.
This is approached in three ways:
Segmentation
Customers visit your site for multiple reasons, making it important to segment the site accordingly to fulfil their different needs. Some may be intending to purchase, while some may just be there for awareness and education – which is highly valuable to nurture just the same.


Content
Never underestimate the power of good copywriting and a curated brand content strategy! Everything on your site must be curated to build up the brand and what it offers so that it compels a customer to make a purchase.
Design
Making your e-commerce site mobile-friendly is more crucial than ever to reach customers and make it easy for them to purchase. Key design elements to look at when designing a mobile-friendly e-commerce site includes the font type and sizes used, image and video resolution and colour palette for overall accessibility.
Level up your e-commerce conversion rate with Brandripe

If you look at the three steps to conversion rate optimization, what's evident is that these are heavily centred around the visual customer experience.

Nailing that would boost your e-commerce conversion rate as it actually creates a whole brand experience for the customer that would lead to them building up trust and making a purchase.
This is how Brandripe can help you in executing this for your business:
Building highly targeted content for different audiences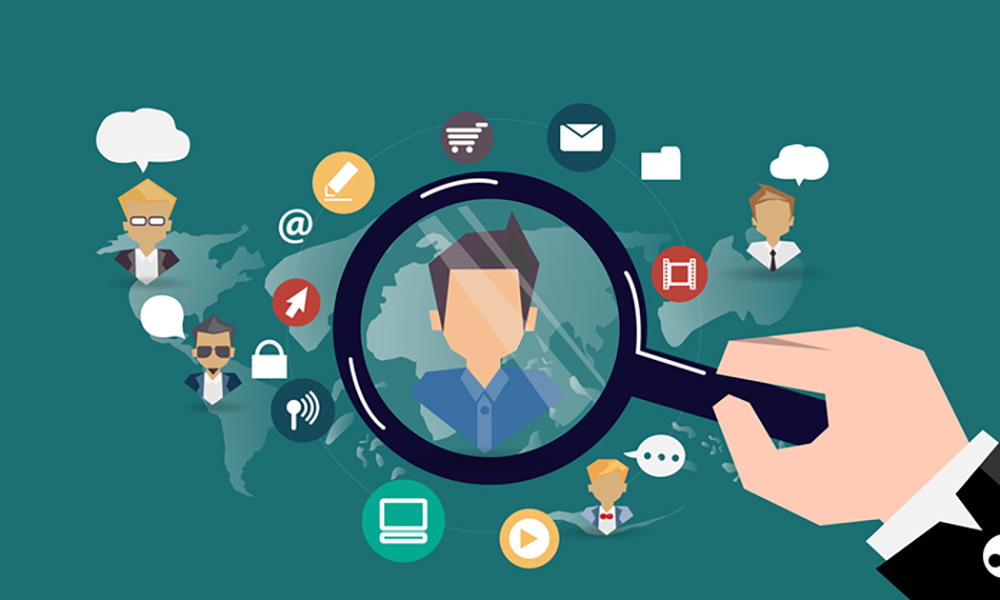 It's important to build highly targeted content. Image: Neil Patel
Segmentation is key, and content is crucial in communicating exactly what these specific audiences are looking for. Targeted content means more customer acquisition and retention. Great content that's properly targeted at a specific audience helps them get to know you, and they feel like you know them.
We work with a diverse clientele, from e-commerce giants like Zalora to local homegrown brands such as pawn broking service Maxi-Cash, black tea manufacturer Boh Tea as well as smoothie and juice chain Boost Juice Bars, which means that we are masters at telling unique brand stories through tailored content.
Curate brand identity through high-quality, tailored graphic design
Regardless of the product – and at the end of the day – people buy brands and not just products. We've spoken about the importance of building a memorable brand identity before, and for a good reason. A strong brand identity helps to differentiate your business from the competition and also helps you stand out to potential customers in the market.
From the logo to the graphics used on your site, it is important that every single visual element is of high quality and exudes the brand persona you want to convey.
Applying persuasive design to your whole site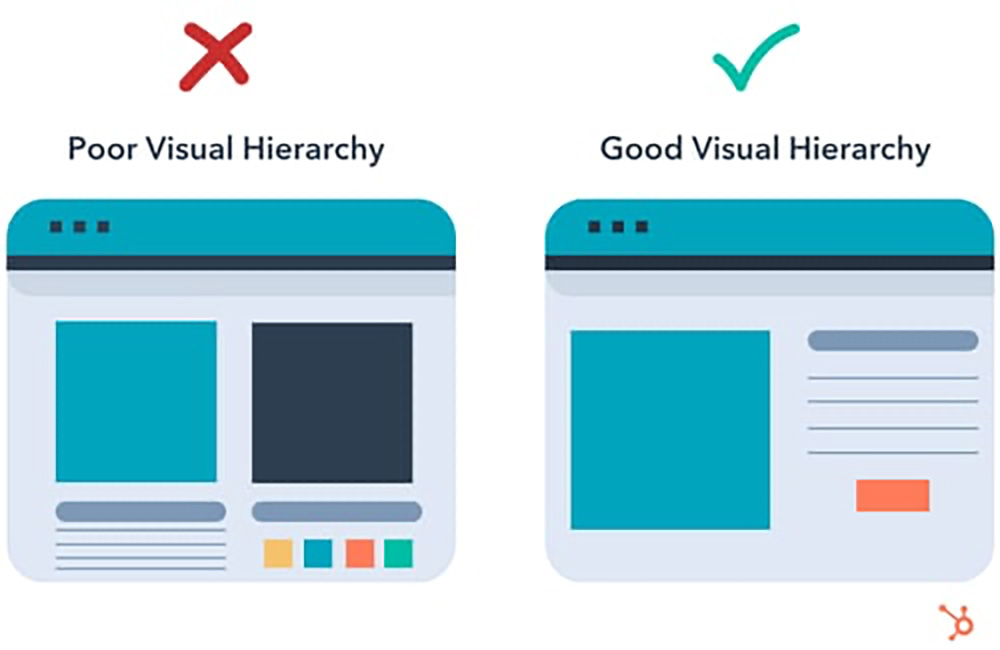 An illustration of poor visual hierarchy vs good visual hierarchy. Image: HubSpot
Amplify the persuasive copywriting in place with the right persuasive design to further convince customers to make a purchase or take an action on your site or your landing page.
This includes building up a strong visual appeal through design aesthetics itself (i.e colour, typography, placement) as well as a strategic visual hierarchy – which means placing the key element you want customers to engage the most with at the forefront of their visual field.
Use graphic design to increase conversion rates – work with Brandripe!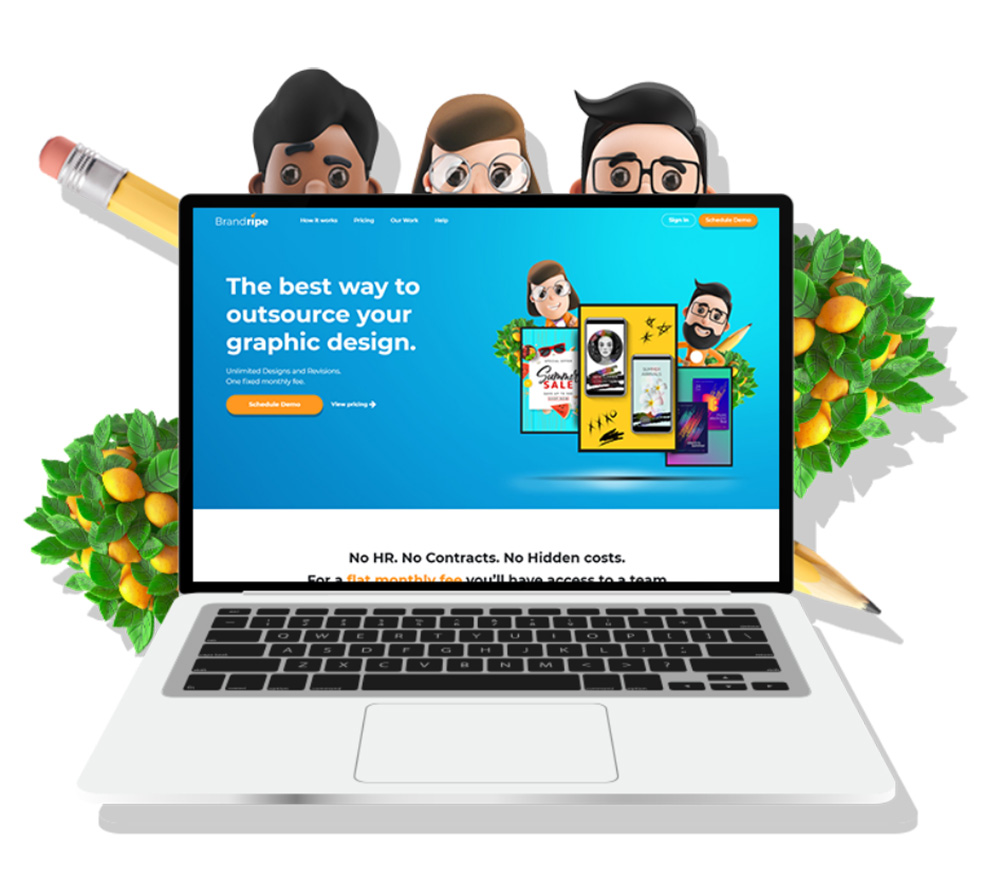 When it comes to outsourcing graphic design needs, not just any firm or team would do.
What works best is to collaborate with experts who are well-versed in different aspects of creativity, from how to best illustrate your new product or service to creating engaging social media story carousels for audience engagement, and even beyond that – because of all these will come together to increase conversion rates.
That's exactly what Brandripe is: experts in graphic design that can help you boost your business no matter what stage it is in. As the trusted partner for prominent Southeast Asian brands, we can help you connect with your target audience and effectively lead them to conversion.
Aside from helping you build highly targeted content for different audiences, curate brand identity through tailored graphic design and applying persuasive designs to your whole site, there is a world of opportunities and methods that we can explore that could potentially help with conversion, such as:
Advertising graphic design (brochure, infographic, digital ads, social media graphics, magazine ads and email marketing templates)
Publication graphic design (magazines, newsletters, catalogues)
Packaging graphic design
Of course, we can talk about this in detail soon, but in the meantime, here are more benefits that come with working with Brandripe:
You'll have unlimited requests, which means that you will be able to make as many revisions and requests as you want.
You'll get a 14-day risk-free trial, to test your project with a designer, evaluate their performance and give feedback.
You get fast and reliable services, as Brandripe's 24- to 48-hour turnaround time ensures that your design will be ready as soon as possible.
You won't be blindsided with hidden fees, as only one flat rate is charged each month and you'll have access to a team of professional designers.
You will get full flexibility, meaning you can create as many designs as you want, pay as you go, or pause and cancel as you wish.
You will receive quality work for a reasonable price, with a monthly package that starts at RM1,899 and includes pre-vetted designers and a dedicated project manager.
You will get full ownership of the designs, so you'll have 100% rights to both the outcome and source files that were created just for you and your business.
If that sounds like what you and your business need, get in touch with us for a 15-minute VIP Demo Call, or drop us a line at hi@brandripe.com or ping us via chat on the main page!