The legendary Sir Richard Branson said these wise words:
"The way a company brands itself is everything. It will ultimately decide whether a business survives."
This quote could not be truer, especially if we're talking about the proliferation of brands within the ever-expanding consumer culture. But just how important is brand identity?
Well, let's use a prime example that's much closer to home, such as food delivery services in Malaysia. In the Klang Valley alone, we are blessed with food delivery heroes who help us stay safe indoors without missing the chance to enjoy our favourite meals.
But that also highlights the fact that there are multiple competing delivery services and brands out there that offer or operate on the same business model.
Yet, when we find ourselves sick and tired of playing Masterchef in our own kitchens, there are two main brands that usually spring to mind. Do you know what they are?
Yes, the brands you're thinking about right now are the correct answer. Let's review; one has a cute panda as a mascot, and the other utilises a striking green that you can't miss.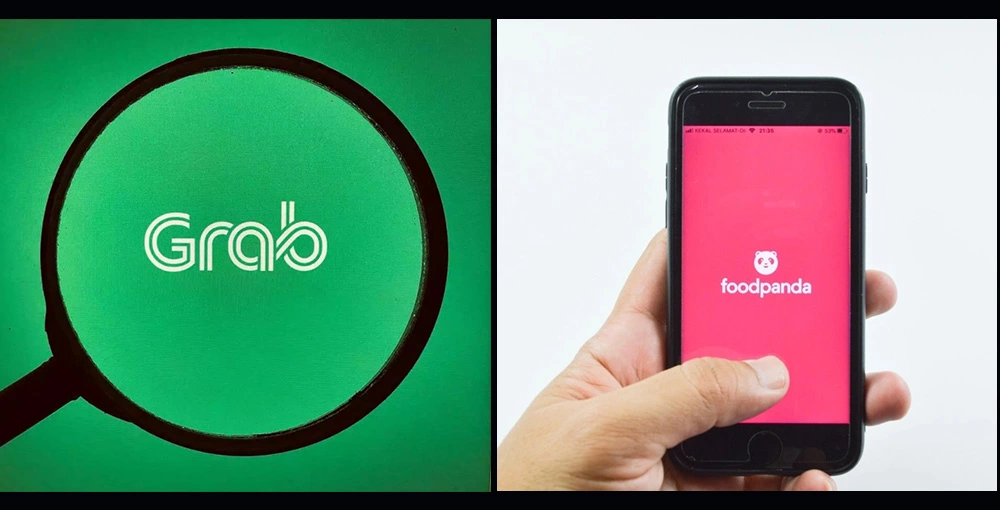 The two dominating brands in the food delivery services in Malaysia are none other than Foodpanda and Grab. Now put that context into your brand and your products or services.
Whether you're offering something unique to the market or not, there is nothing more critical than ensuring that your brand is not just another brick in the wall.
Sometimes, it's not about what you offer. But most of the time, it's definitely about how you offer it and how you tell your brand story.
What is a brand identity and why is it important?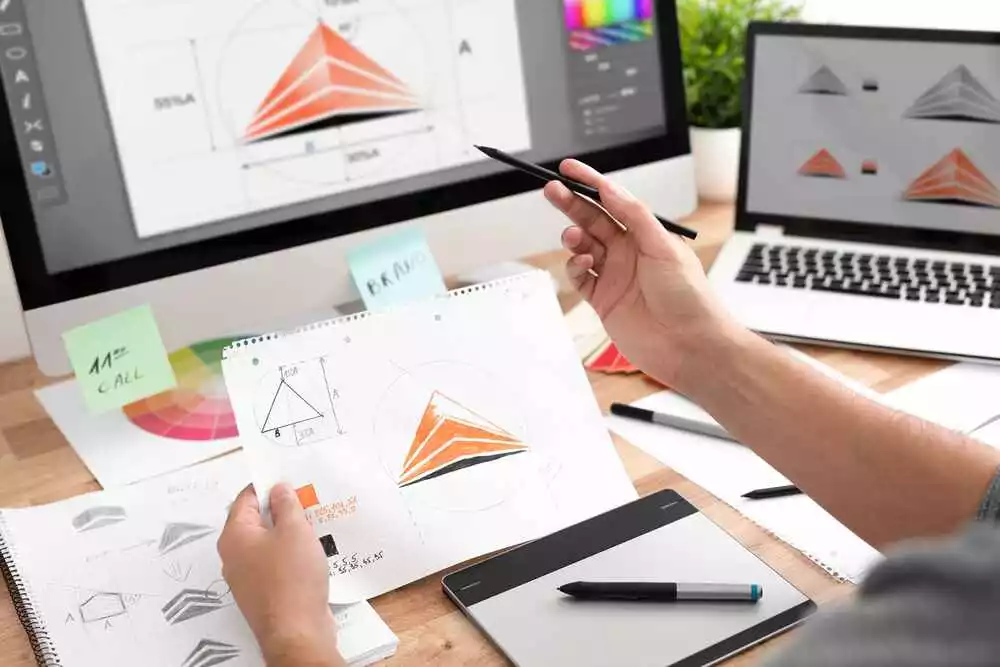 In layman's terms, brand identity is the picture of you (your business, service) that you want your customers to see.
It encompasses everything from the look and feel of your brand to the way you engage your customers in your daily conversations. It even trickles down to how you address customers from a service point of view.
Having a brand identity is crucial because it defines you and how consumers perceive you. It also affects how you are being recognised.
Memorability aside, your brand identity is your brand's personality and it should be able to convey your values and purpose, and even sway how your consumers stack you up against your competitors.
Here's another example. An artisanal bar of chocolate and a mass-produced one are both edible, but people would opt for one over the other. Why is that?
It all depends on how the brands identify themselves and convey what their target audiences value most. Is it a quick bite for some sugar rush or an elevated dessert experience? That makes all the difference.
How do you shape a brand identity?
So now that you have an understanding of what brand identity is, it's time to set it up for your brand.
The best way to go about this is to lay out your brand identity prism. This is a brand marketing model that looks at the six core elements of shaping a brand identity.
The six elements are:
Physique: This covers the tangible aspects of your brand such as the colour, logotype, font and imagery.
Personality: How does your brand come across to your consumers?
Culture: What values or ideals does your brand represent?
Self-Image: How using your brand makes your consumers feel i.e feeling posh when buying a Gucci bag.
Reflection: An externalisation of self-image on how the brand is perceived i.e Rolex is a luxury timepiece maker.
Relationship: Engagement between the brand and its consumers, such as having a brand that you trust for your specific needs.
The brand identity prism should help you in connecting both internal and external elements that form your brand; from how it looks to the relationship it creates with your consumers.
At the end of the process, you should be able to craft a compelling brand that is beyond the two-dimensional shop window of just collating colours and straplines together.
Here are practical examples of how a brand identity prism is used by Starbucks and Levi's: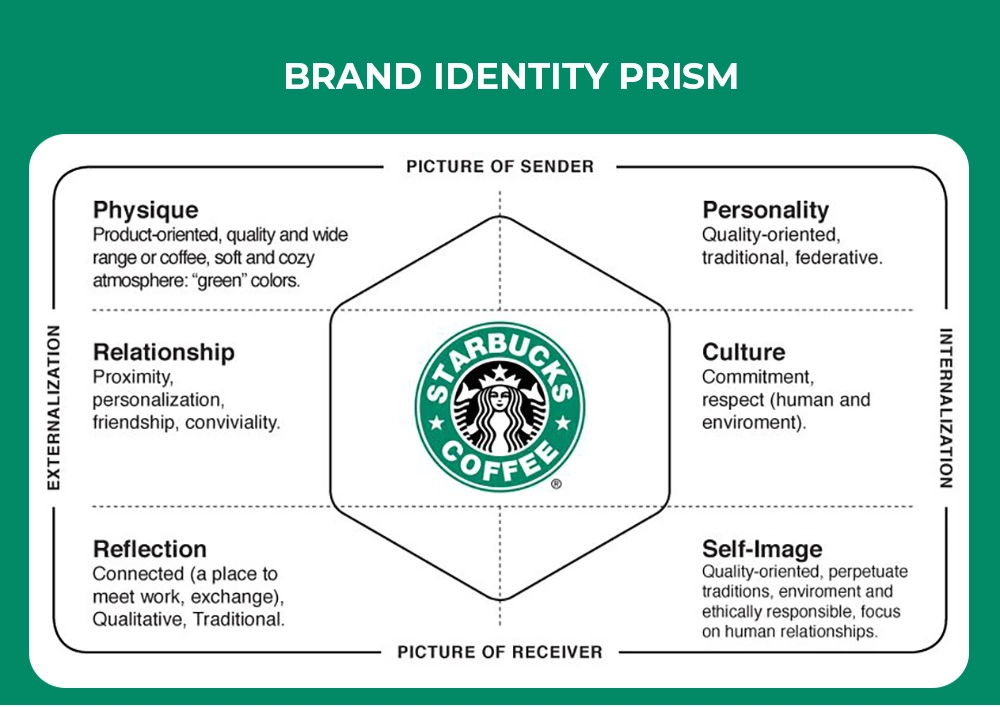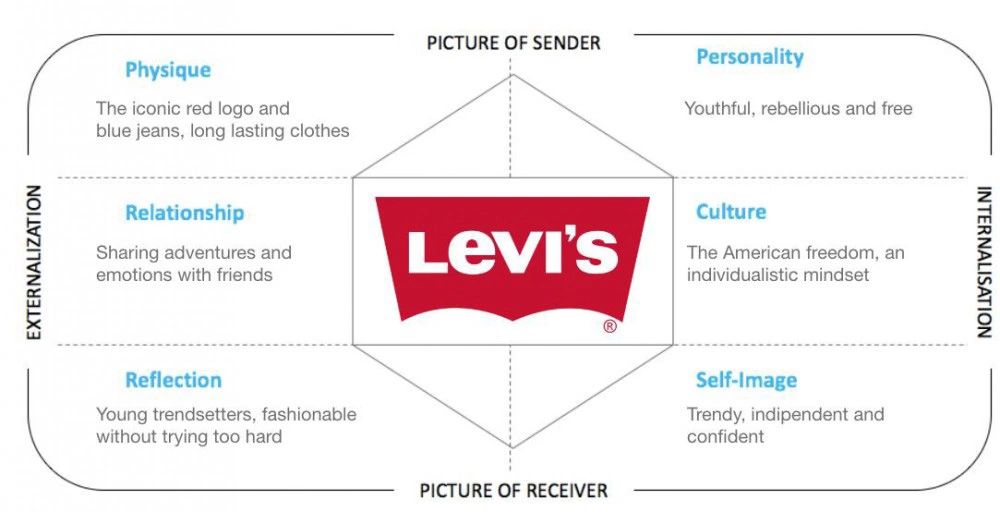 From a design point of view, the essential elements required to set up a brand identity include:
A memorable logo and/or typeface, and different variations of it
You'll need a logo that will be rendered consistently, but you'll also need different sizes and styles to fit into different placements and usages (such as square or horizontal applications, for example).
Though there will be different variations, the logo or typeface needs to retain the same essential qualities of your brand identity.
An attractive colour palette
Though you may have set up your brand identity colours, you'll need to also think about what other colours will complement them.
Knowing about the right kind of emotions you'd like your brand to evoke will help you decide on which colours to choose. Just remember that they need to complement, not clash, with your brand identity.
Typography that suits the brand personality
Be sure to that "clicks", or works in harmony with your logo and colours. A single, primary font is all that's needed to lead your entire brand design and identity, so choose wisely.
A consistent style for images
Now, this doesn't mean that you should stick to the same image over and over again. Instead, it means that you should stick to a similar style of images whenever you're presenting your brand. Examples include soft-focus photos or images with a certain "filter" or colour palette.
However, you're not tied to just images; feel free to work with illustrations or art.
On-brand supporting graphics
Having a comprehensive and strongly-built graphic library creates a foundation for a rock-solid brand identity. This is why it's important to pay attention to the details, as they all come together to create a unified and recognisable brand identity.
The downside of DIY
When you are relying on pre-made templates and free images from your website provider, you usually don't have the creative rights to use the imagery across all channels.
Additionally, you may lack both the design expertise and the tools to do this all yourself. A professional graphic design team like Brandripe can pull together a cohesive look for you and set you up with style guides and libraries to create a distinct look for your brand.
Staying true to brand identity
At Brandripe, we take pride in not only helping brands set up their identity but also in being part of the journey with some of the most prominent brands.
Our support as a reliable creative partner has enabled multiple brands to scale swiftly and focus on their expansion while we do what we do best, which is delivering great quality designs that don't compromise on brand identities.
We're happy to share some examples of the familiar brands we have worked with in Malaysia, who are prominent players in their respective industries:
Golden Screen Cinemas (GSC)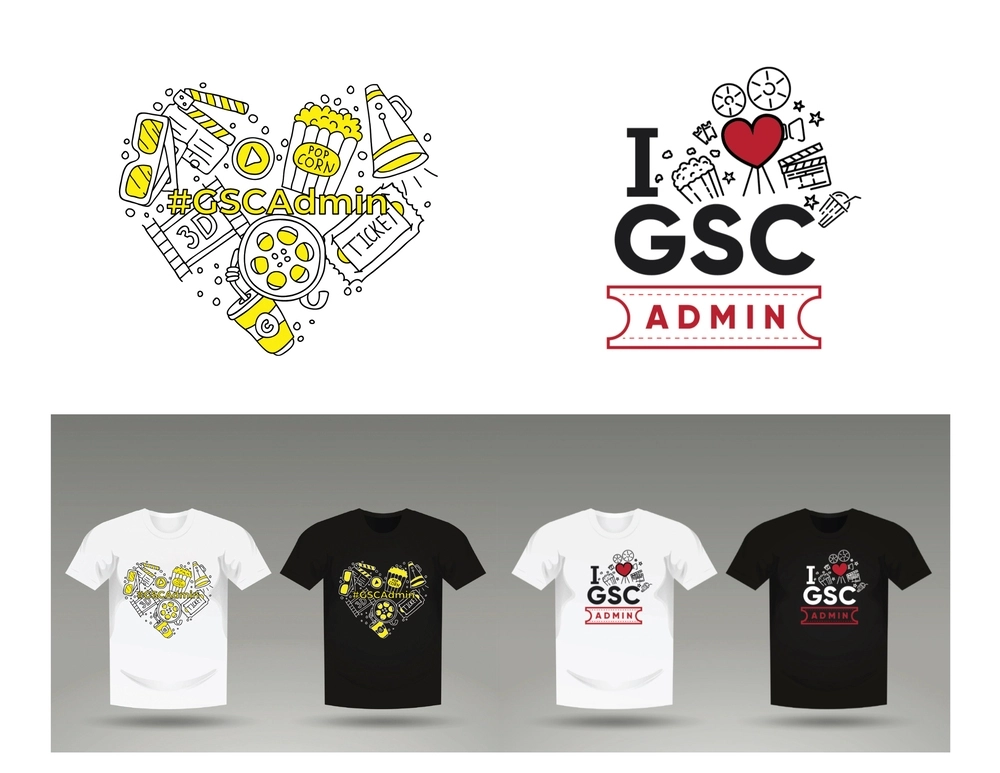 As our go-to cinema for any new premieres or the usual chilled-out weekend with friends and family, GSC is not a brand that needs any introduction.
Over time, GSC's logo may have changed slightly for a more modernised look, but the signature film-strip icon with golden "G" and "S" letters imprinted on it is unmissable.
The brilliance behind the brand identity is that each element describes clearly and simply what the business is about and stays literal to its brand name, making it easily memorable and enabling consumers to make a direct connection quickly.
During the recent COVID-19 pandemic, however, GSC was forced to shut down all outlets, resulting in the need to find other ways of generating revenue.
This is where Brandripe stepped in as a creative partner, in charge of creating designs for merchandise sales such as T-shirts and posters -- which increased online sales and conversion.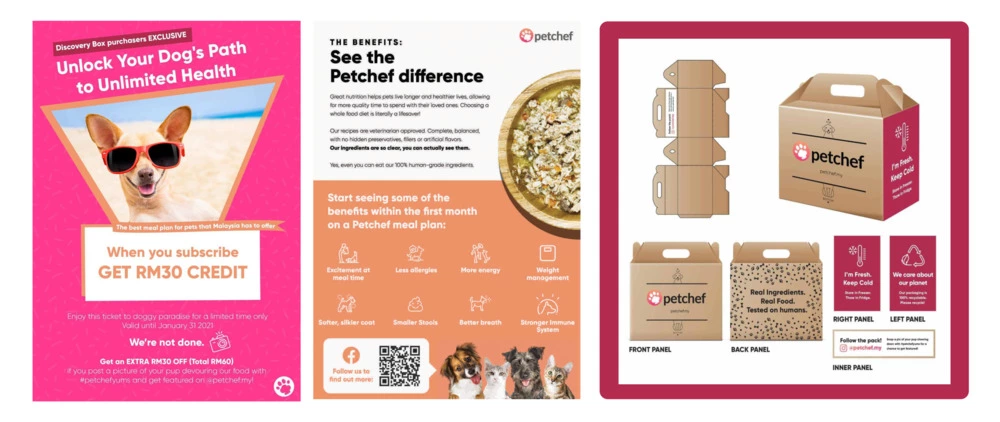 Fresh, human-grade pet food delivered right to your doorstep. That was the idea behind this Malaysian startup.
As Petchef planned to introduce new packaging to expand their product offering to a growing (furry) clientele, Brandripe produced an end-to-end packaging solution that included box designs, labels, guide booklets, brochures and flyers within a month.
On top of that, the price quoted by Brandripe was only a fraction of the amount other graphic design vendors were pitching.
So, not only did Petchef successfully speed up its launch date, but it also saved thousands of ringgit while doing so.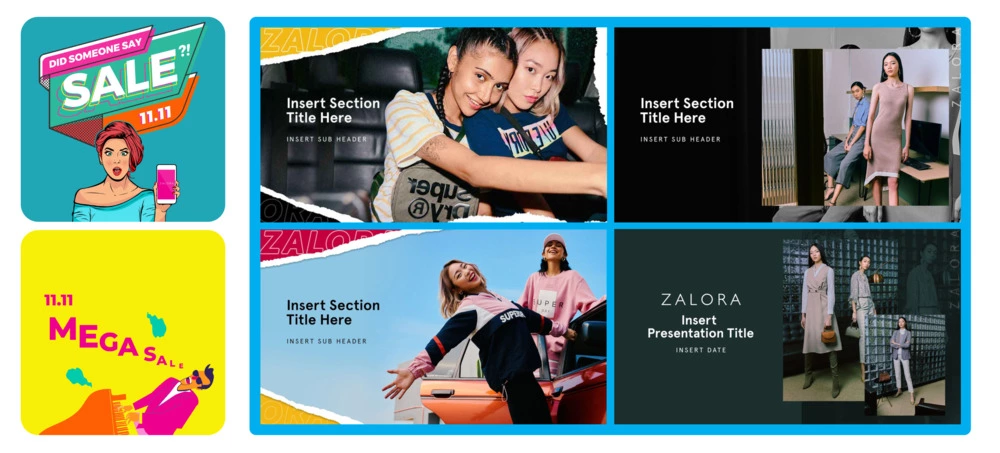 Over the years, fashion destination Zalora has grown tremendously across Southeast Asia and despite adding more and more categories and offerings under its belt, its brand identity was cleverly crafted with a clear vision that will continue to withstand the test of time.
Unique brand name aside, Zalora keeps itself très chic with a monochrome logo that resembles fashion ateliers' muted and exclusive brand physique.
The skilled designers at Brandripe, with their expertise and understanding of Zalora's brand identity, are now working with the platform for design execution that needs to be adaptable and used across different channels and languages in 8 regions.
As a result, Zalora has more bandwidth to focus on main design concepts and strategy and has even further extended their design requests to Brandripe -- a testament to our reliability.
Create a strong brand identity template with Brandripe
How your brand looks and makes consumers feel is a factor that directly impacts your business, and Brandripe has the creative force that can help you craft this based on your needs and aspirations.
We work with brands both large and small and our seasoned tenure within the creative and marketing agency industry taught us first-hand about what makes a brand distinctive and memorable.
So, whether you're someone who's trying to grow a budding business, are part of an agency or an independent service provider, Brandripe is at your service.
We can help you set up a strong brand identity template and support your scaling business wherever needed in terms of design while staying true to brand identity.
If you had prior experience sourcing for a freelance designer, you may have had to go through quite a tedious process where contracts are fixed, and the timeline for revisions and deliverables are not adaptable to how quickly you need to move.
This is what makes Brandripe the perfect partner too; we're flexible and you get as many revisions as you like until you're happy with the end product.
But first, let's get in touch and hop onto a VIP demo call together, where we can elaborate on our 14-day risk-free trial that will also ensure that you get your brand identity mock-up or other designs within 48 hours.