In the relentless pursuit of growth and excellence, every visionary entrepreneur understands the importance of strategic optimisation. As Australia's business landscape continuously evolves, leaving no room for compromises, it's imperative to constantly refine your approach and leverage every opportunity to gain a competitive edge.
This includes re-evaluating how you manage your design needs – a critical aspect of brand identity and customer engagement. If you're questioning whether your current design resources are truly maximising your brand's potential, you're not alone.
Outsourcing is a trending practice among Australian businesses; Deloitte Australia revealed in 2023 that 80% of Australian businesses mostly outsource and mostly use offshore resources.
Globally, countless organisations, including over 500 businesses in our portfolio, have discovered the transformative power of outsourcing their graphic design needs. This strategic decision has enabled them to tap into a world of expertise and creativity, propelling their businesses forward with a fresh perspective and unmatched efficiency.
Outsourcing graphic design isn't just about delegating tasks; it's about partnering with a team of skilled professionals who can elevate your brand's visual identity and seamlessly integrate with your existing workflow.
It's about harnessing a global pool of talent, handpicked for their expertise and adaptability, to deliver designs that resonate with your target audience and amplify your brand's message.
The state of outsourcing in Australia
The growth for outsourcing in Australia is driven by several factors, including;
Increasing business demands and complexity of operations
As businesses expand and their operations become more intricate, the need for specialised expertise and efficient resource allocation becomes paramount. Outsourcing allows businesses to access a global pool of talent, tapping into niche skills and knowledge that may not be readily available in-house.

The need for cost reduction in specific departments


In a competitive market, businesses are constantly seeking ways to optimise costs without compromising quality. Outsourcing offers a viable solution, enabling companies to streamline non-core functions and reduce overhead expenses. By partnering with outsourcing providers, businesses can focus their resources on core competencies, driving innovation and growth.
Growing need for enhanced flexibility and scalability


Outsourcing offers businesses the flexibility to scale their operations up or down as needed, adapting to changing market conditions or project requirements. This agility allows them to respond swiftly to new opportunities without the burden of hiring and training additional staff.
Requiring expertise in outbound markets


Australian businesses are increasingly outsourcing graphic design to countries with strong design capabilities, such as Malaysia, India and Southeast Asia. These countries offer a combination of design expertise, cultural understanding and cost-effectiveness.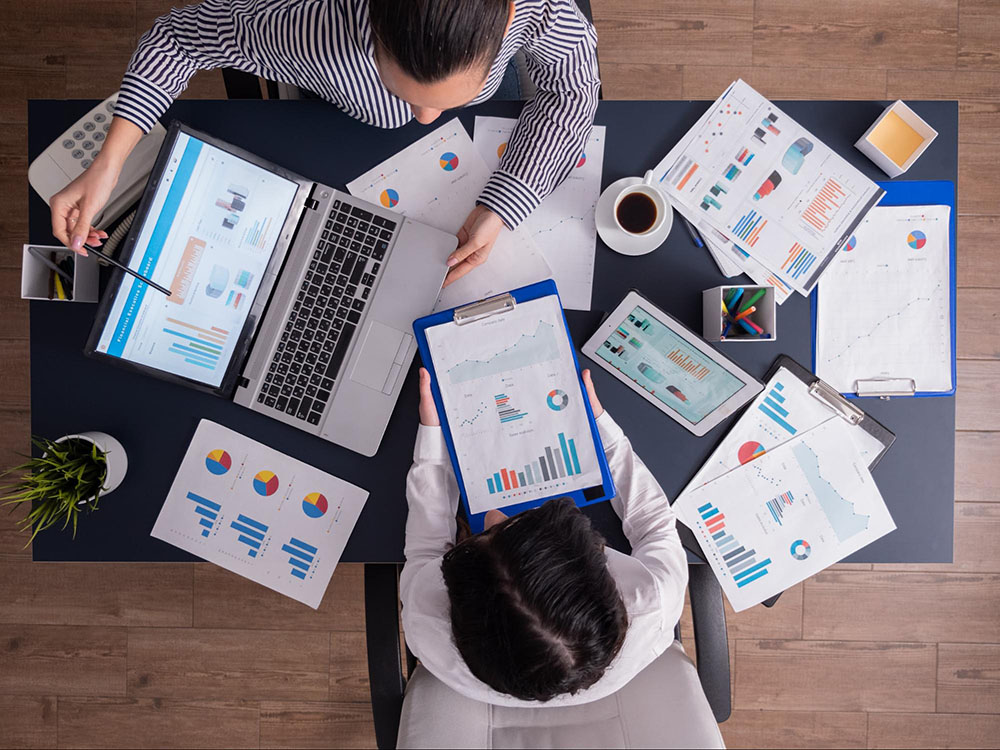 More and more businesses, especially those in Australia, are outsourcing talent. Image: Freepik
The difference between hiring in-house vs outsourcing
One of the biggest business myths when it comes to outsourcing is that it's a solution for those that can't afford to hire in-house but that couldn't be further from the truth.
In the next section, we will present a comprehensive point of view for you to decide if hiring in-house or outsourcing is what's best for your business goals.
Considerations for hiring in-house
Hiring an in-house design team means having a group of designers employed by your company to handle your design needs. They are a part of your company's staff and will be working exclusively for your company's brand, marketing and visual communication needs.
An in-house design team is typically made up of the following roles:
There are several other roles that are crucial for an elite in-house design team such as UX/UI designer, NFT designer, motion graphic designer, illustrator and more.
It is also important to consider the additional costs involved when it comes to in-house hiring such as recruitment fees, claims, salary benefits, advertising costs, office space, software & hardware… the list quite literally goes on!
The benefits of hiring in-house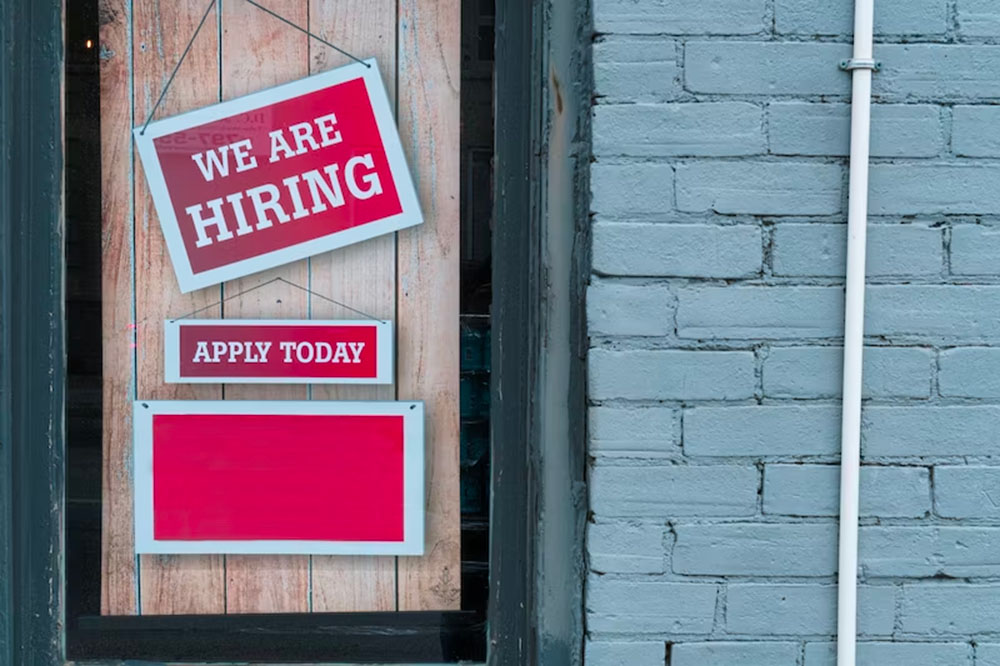 This section will cover the pros and cons of hiring in-house. Image: Unsplash
There are a few advantages for your company should you decide to hire in-house. These include:
Cross-functional collaboration with other departments


As the business grows, alignment between other departments such as marketing, sales and product development becomes more crucial. Having an in-house design team with access to collaborate with these departments can lead to more cohesive and effective marketing campaigns.
Control over design process and quality


An in-house design team presents an opportunity to have direct control over the design process and quality standards.
The downsides of hiring in-house
As attractive as it may be to have your very own design team, there are a few disadvantages that come with working with an in-house design team. These include:
High setup and recurring costs


As shown in the Considerations of hiring in-house section, hiring a whole design team even if you are prudent will set you at nearly $30,000 monthly. This excludes additional costs such as recruitment fees, office space and more.
High pressure to keep high demand for design needs, to justify investment


Due to the high costs, it is unavoidable that a consistent demand for design is required to ensure the investment in an in-house design team does not go to waste.
The uncertainty of the designer's skill sets and work ethics


While it's possible to come up with a lengthy application process to filter suitable candidates for the role, it still does not provide certainty on the candidates' ability to perform in the role.
The benefits of outsourcing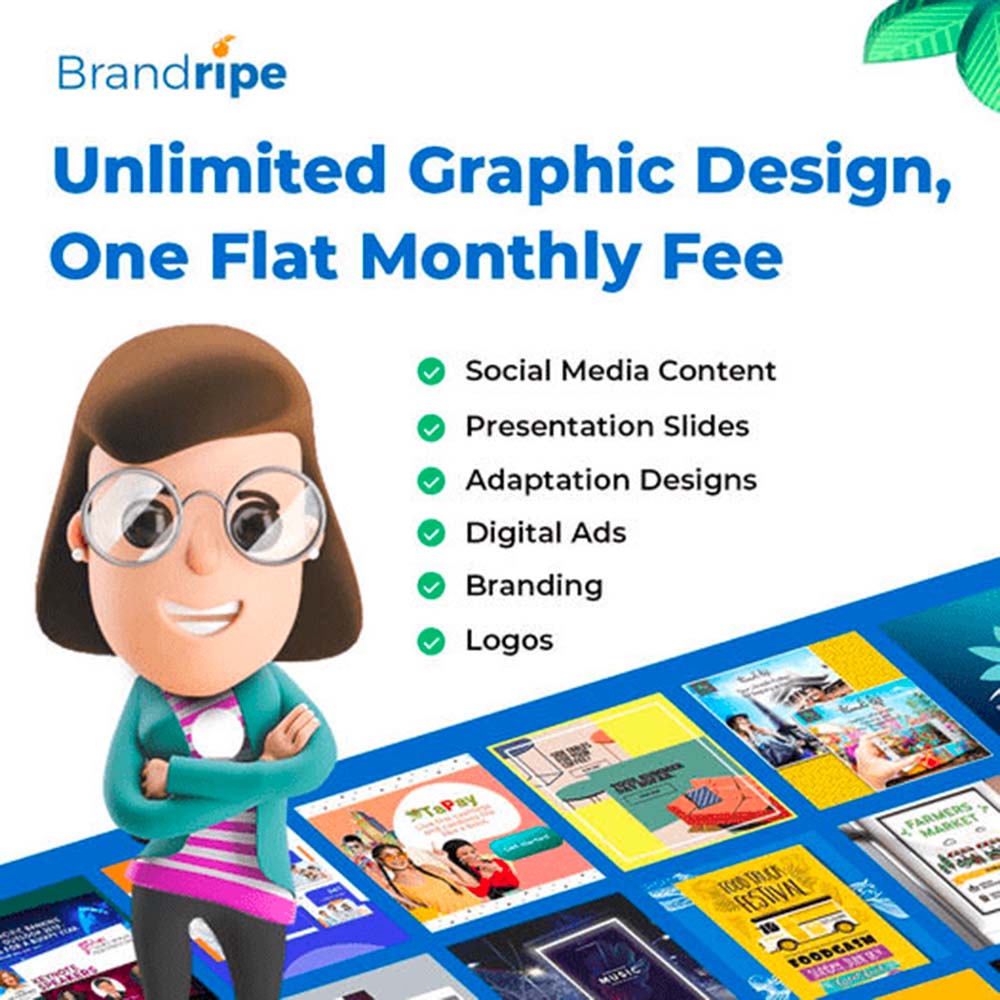 Brandripe is a good example of how outsourcing can really help your business thrive. Image: e27
Given that 80% of Australian businesses are outsourcing, it is worth exploring the values that outsourcing brings to them. In this section, we outline the benefits of outsourcing to give you some insight into why this is a growing trend among Australian businesses.
Cost-effective


To be clear, we are specifically talking about our monthly on-demand graphic design subscription which offers a fixed monthly rate for unlimited graphic designs. You could consider agencies or freelancers but the costs might not be as efficient especially if you miss out on their fine print. With Brandripe, you get unlimited revisions, full design ownership and more with a simple monthly subscription that costs less than 1% of the money needed to build an in-house design team.
Get your brand global recognition


Brandripe's team of creators is made up of global industry movers and shakers in the world of graphic design. By teaming up your in-house team with our creators, you will be able to elevate your brand on a global level.
Streamlined and transparent workflow


On our website, our clients are able to monitor, update and manage their design needs. This allows for greater transparency and efficiency in the design process.
Turnaround guarantee


The thing with in-house design is that you could get a quick turnaround time but it could also mean a quick turnover as employees face burnout. On the other hand, by outsourcing your design needs, not only will you be able to receive your design needs within 24-48 hours but you will also provide your in-house designers an opportunity to focus on higher-value tasks.
The downsides of outsourcing
Despite the numerous benefits of outsourcing design services, choosing an unsuitable outsourcing partner can lead to potential downsides that may negatively impact your business. Here are some examples:
Potential for hidden costs


One of the appealing factors to outsourcing is cost management. However, many freelancers or agencies may take advantage by putting up low upfront costs only to include a variety of hidden costs at the point of invoicing. Hidden costs arise due to miscommunication, rework or unforeseen expenses. Hence, it is important to review the contracts carefully and establish a clear pricing structure to avoid surprises.
Dependency on external resources


Over-reliance on outsourcing can create dependency on external resources, making it difficult to handle design tasks in-house if the partnership ends. Maintain a balance between outsourcing and developing internal design capabilities.
That being said, if you decide to work with Brandripe as your outsourced design partner, we can assure you that you won't be surprised by any hidden costs.
This is because our subscription model was designed based on our experiences working with hundreds of businesses and identifying their pain points. We take pride in being the solution for the design needs of over 500 businesses.
Brandripe also offers a flexible subscription that you can pause at any time so that once your design team has been established for one brand, you can use us for another brand.
This way, your in-house design team can get autonomy over brands we helped along the way and we can work with you to build another brand. Maintaining this cycle will be greatly beneficial for your business in many ways!
If you are ready to take your Australian business to the global market, we are the partners for you. Schedule a Demo Call today and let us show you what we've got!