In a world where first impressions count for everything, the impact of a well-crafted logo, a visually appealing website, or a thoughtfully designed product packaging can make all the difference in capturing the hearts and minds of customers.

At Brandripe, we understand the power of design, and we're committed to delivering quality in all aspects of our work. But all of this cannot happen without a strong and talented team.

By attracting and nurturing world-class design talents, we're able to ensure that our commitment to quality remains unwavering, bringing our clients (and you, a brand or a business owner, or even a part of an agency) some of the best graphics design work in the market.
Now, let's dive into how we do that.
How do we attract and nurture the best talents in graphics design?
We love the challenge of quality
Quality is not just a buzzword; it's the cornerstone of effective design. Poorly executed designs can tarnish a brand's image, while exceptional design can elevate an entire brand altogether to a whole new height.

But how does one determine what constitutes the best quality?
Because we are the trusted creative partner to some of the biggest global brands, it is even more crucial that we have a high commitment to always delivering the best quality. Our commitment to quality starts with a deep understanding of design principles, trends, and industry best practices.
We push our team to stay at the forefront of design innovation, constantly refining our skills and staying updated with the latest tools and technologies. This commitment to continuous improvement allows us to set high standards for our work and maintain them consistently.

This not only keeps our team sharp – but it also presents a creative challenge to really appeal to their creative tendencies and offer an avenue for innovative ideas.

Some of the brands Brandripe has worked with.
We source top talents
To deliver exceptional design, you need exceptional designers.
Our team is led by Abby Alkury, a seasoned industry professional boasting a decade of experience in consistently delivering successful creative services. While great minds think alike, great talents also recognise great talents.

When it comes to the team, Abby's philosophy is that great design talent is not just about having technical skills but also about creativity, innovation and a passion for excellence.
When we search for potential hires, we look beyond resumes and portfolios. We evaluate candidates based on their ability to think critically, solve complex design challenges, and communicate effectively.
Our interview process is designed to assess both technical skills and soft skills, ensuring that candidates not only have the necessary design acumen but also the ability to collaborate and thrive in our dynamic team environment.
We value diversity in our design team. Our Design Lead, Debbie comes from a rich background in social media, branding & identity, advertising, user interface design, and motion graphics.It is through different perspectives and backgrounds that we are able to enrich our creative process and produce designs that resonate with a wide range of audiences.
We are all about nurturing talent
Attracting top design talent is just the beginning, you gotta keep them! We understand that nurturing talent is as equally important as getting the right people through the door.
That's why we are focused on creating an environment where our designers can flourish, learn and grow both professionally and personally.
Professional development opportunities are a key component of our approach. We invest in our designers' growth by providing access to workshops and training programs.
We encourage them to explore new techniques and stay updated with the latest design trends. Our commitment to their development not only benefits our designers but also translates into better results for our clients.
As with any other role, having a supportive work environment is another crucial aspect of nurturing talent. Our leadership team commits to fostering a culture of collaboration, open communication and feedback.

Our designers are encouraged to share ideas, ask questions, and seek guidance from their peers.
After all, the best collaborations drive innovation – there are plenty of opportunities for our designers to share best practices and even adopt new ideas across industries for different clients, which in turn delivers unique, creative results.
We are also all about delivering quality
Our approach to sourcing and nurturing talent directly translates into high-quality work for our clients. When you choose Brandripe, you're not just hiring a design team; you're partnering with a group of passionate individuals dedicated to bringing your vision to life.
Our designers are not just skilled professionals; they are artists who pour their creativity and expertise into every project. They approach each design challenge with the same level of dedication and enthusiasm, whether it's a small branding task or a complex multi-touchpoint project.
The result is a portfolio of work that speaks for itself – designs that are not just visually appealing but also strategically sound, tailored to your unique needs and goals.
Access top design talents – partner with Brandripe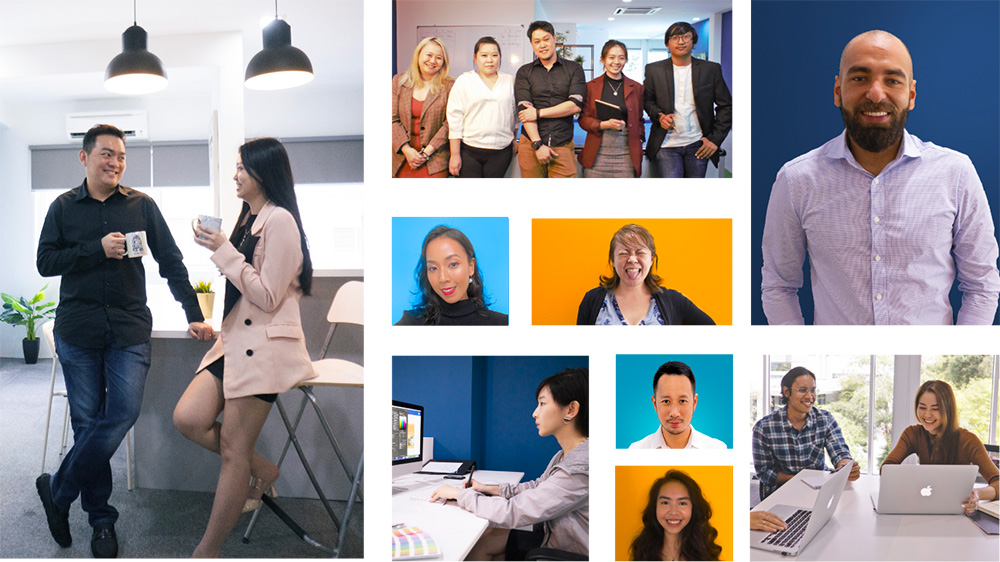 Working with Brandripe will open a world of creative opportunities.
Image: Brandripe
Our commitment to quality, from sourcing top talent to nurturing their growth, is what sets us apart. We understand that our success is intertwined with the success of our clients, and we
spare no effort to ensure that every design we create is of the highest calibre.
If you're looking for a design partner that shares your commitment to excellence, look no further than Brandripe.

Make the first move - drop us a note at hi@brandripe.com or simply schedule a 15-minute VIP demo call at your convenience for a tailored intro session with our team.
As a side note, if you are a designer looking for a gig that values your creativity, skills and professional growth, we invite you to explore exciting opportunities with Brandripe.
Join our team of passionate design experts and be a part of our journey to shaping the future of graphic design.
Discover how you can grow alongside us and make your mark in the world of design. Connect with us today at hi@brandripe.com to explore the possibilities!