Source: Freepik
According to a report by a professional consultancy firm, Accenture, 83% of workers globally prefer a hybrid work model. Hybrid work is a flexible working model where employees can split their time between the physical workplace and work remotely.
This arrangement was the result of the pandemic where most workers had to work from home fully. The growing popularity of hybrid work is due to its nature of bringing together the best of both worlds.
This is backed by the statistics from Accenture's The Future of Work report where 63% of high-growth organisations were reported to have enabled productivity from anywhere.
As the pandemic started to move towards the endemic phase, many organisations conducted internal reviews to determine productivity differences between fully working from home, hybrid work or fully returning to the office.
In 2021, PWC conducted a survey with 4000 businesses from 26 countries where the results showed that 57% of the organisations delivered better results during the pandemic when they adopted hybrid or remote work.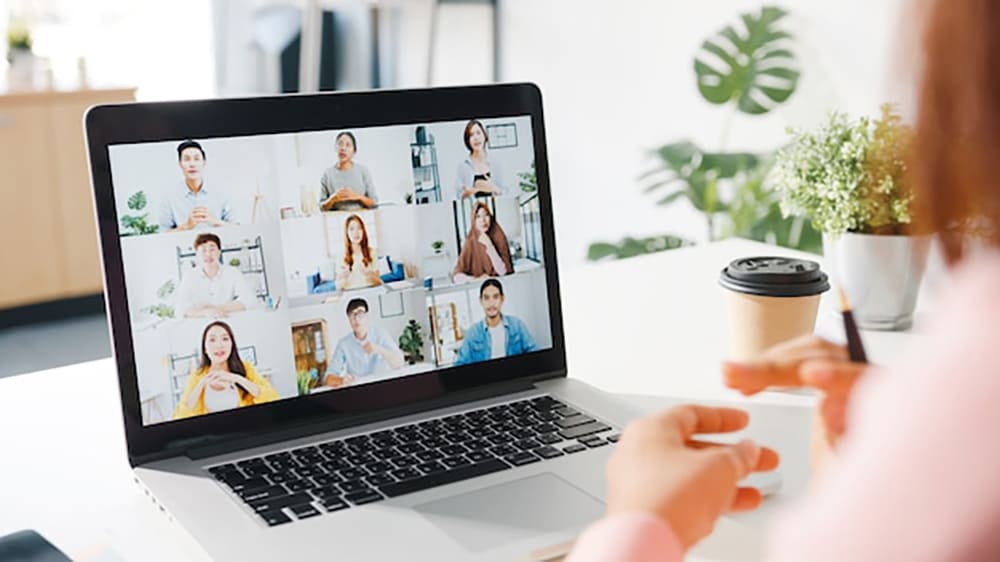 Source: Freepik
Why are employers adopting hybrid work?
Besides an increase in productivity, the adoption of hybrid work is a solid strategy against the Great Resignation movement. The Great Resignation is a movement whereby a large number of employees resign during or post-pandemic as a result of the company's treatment during or post-pandemic.
The trend seems to also affect companies outside of the US: a PWC survey of more than 52,000 workers across 44 countries revealed that one-fifth of the workers plan to leave their jobs in 2023. Gallups Research indicates that 54% of employees said they would leave their job for one that offers flexible work time.
It's evident why hybrid work began to gain traction as a countermeasure against the Great Resignation. Statistics show that companies see a 12% reduction in turnover when employees are allowed to do some remote work. Companies can also save $11,000 per year on average by implementing part-time remote work.
So, how did hybrid work become a countermeasure against the Great Resignation? It's giving employees what they want.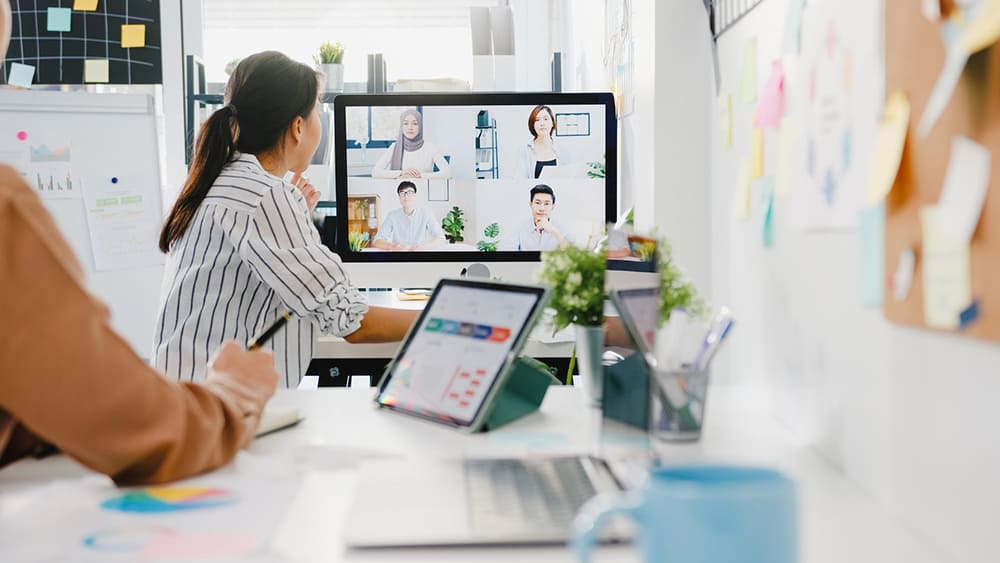 Source: Freepik
Why do employees want hybrid?
It helps them save money and time
Hybrid work allows employees to not waste their time being stuck in traffic. The travel time can be reinvested into family, friends, pets and self-improvement and self-care. More than that, a large chunk of money is saved by the employee from not having to commute, socialise or dress for work.
Improves quality of work
Believe it or not, employees actually do want to do a good job. Having to work fully in the office can be more distracting as superiors or colleagues call for informal and unscheduled meetings, leaving work to be done last minute and a compromised level of quality. With a hybrid arrangement, all discussions are optimised in a formal schedule and records are maintained to ensure the minimisation of errors and maximisation of productivity.
Greater mental wellbeing
Hybrid working shows an employer's faith in their employees to work more autonomously. This leads to a trust-based culture which in turn creates an environment conducive to positive mental health.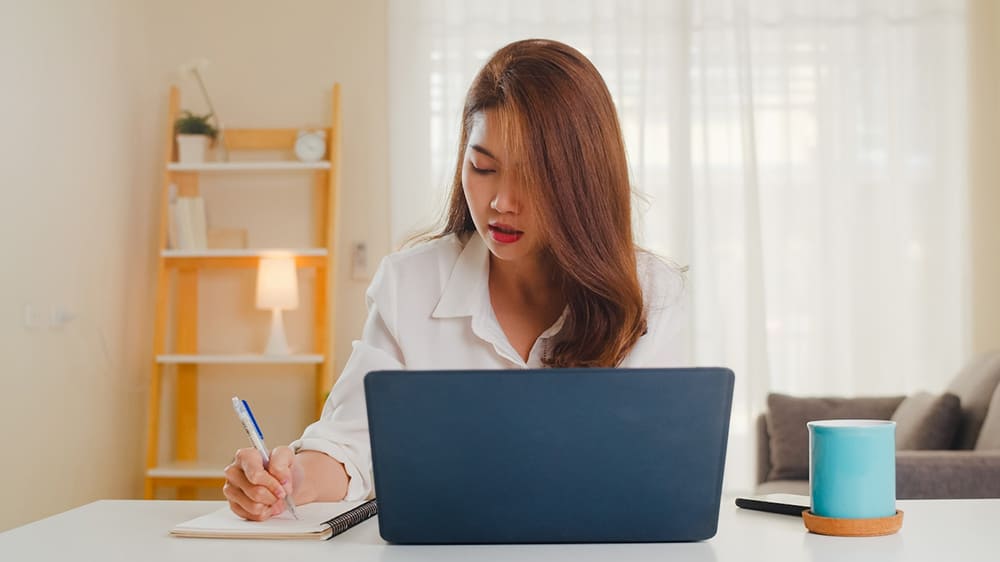 Source: Freepik
Why should you outsource your design work in a hybrid work model?
The adoption of hybrid work tells us that global organisations are focusing on a work-smart approach instead of only working hard. Then, it only makes sense to also consider the benefits of outsourcing certain organisation functions such as design so that the in-house workforce can focus on high-value functions.
Hiring an outsourced service provider can also fill in the gaps and challenges presented in a hybrid work model such as:
Centralised communication
Design work requires a lot of communication and it also involves various stakeholders, such administrative work takes away precious time from in-house talents. By outsourcing your design work, your appointed agency will act as a single point of communication to bridge information across your company's various departments and stakeholders.
With a scattered workforce and processes, centralised communication can be tough. By hiring an on-demand designer, you will not only be bringing professional expertise in for top-quality designs but setting a central point of contact to avoid information gaps.
Save on software upgrades
High-quality design works require investment in advanced design software. By outsourcing, there won't be a need to spend on establishing technological infrastructure. Make the most of your hybrid work model by ensuring uninterrupted technological support and being at the forefront of automation without putting a financial burden on the company.
Lowering and maintaining consistent business cost
Outsourcing just makes so much more sense when you are looking to optimize your business cost. A good outsource agency will be clear on the deliverables and the cost upfront and ideally with a fixed rate to ensure your company can manage a consistent business cost.
On the other hand, hiring in-house talents specifically for design work can be very expensive as growing demands lead to higher hiring costs and employment expenditures.
Transparency and efficient workflow management
Hybrid work can lead to inconsistency when it comes to transparency and managing timelines. Especially in a growing organisation, too many deliverables can be overwhelming for in-house employees especially when their time can be used in high-value functions such as revenue growth or operations.
Outsourcing a design service is an all-in-one solution for transparency and efficient workflow management.
Less time, more productivity
A hybrid work model can be complicated and complications can take up precious time. Outsourcing a design firm can help accomplish more tasks in less time without exhausting the employees.
This also presents an opportunity for in-house employees to leverage the expertise of professional designers through collaboration and achieve better efficiency.
The gist of it all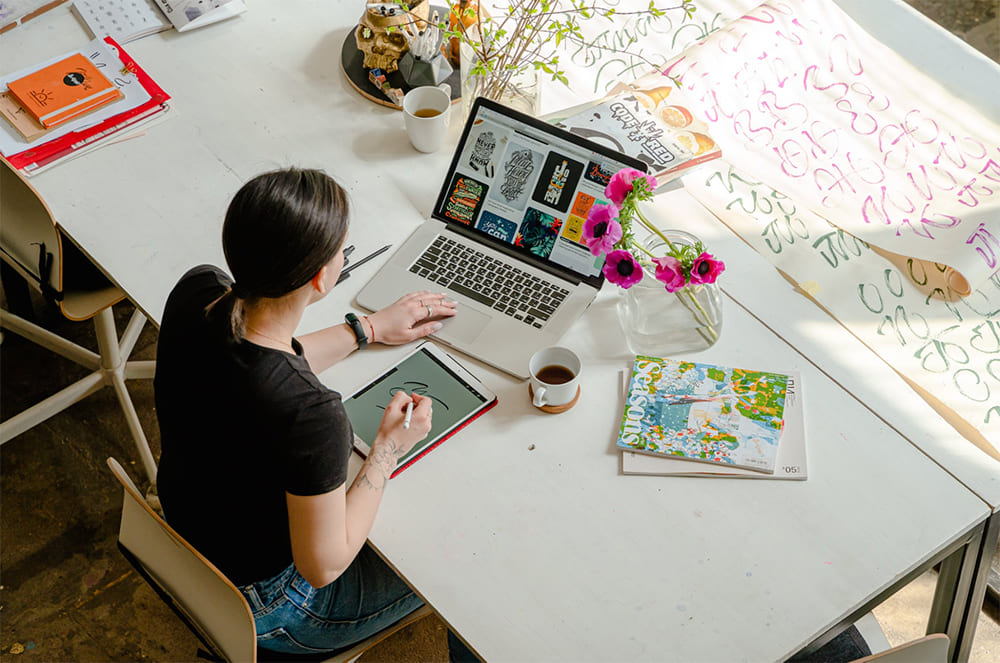 Image: Pexels
Brandripe walks the talk by implementing hybrid work in our own organisation. We have achieved wonders for our clients, both big and small businesses. Our team of creators are ever ready to meet your growing design needs at a fixed price monthly. Other reasons to consider Brandripe as your partner in your hybrid workplace are:
Brandripe's dedication goes beyond design work. We have pledged ourselves to make the world a better place by providing creative support and graphic design to local and regional charities. We believe that great designs come with great responsibilities. If this is something that aligns with your company values, we should talk.
Pay as you go (Monthly Plans)
You might be considering hiring in-house but with what companies experienced during the pandemic, it might be wise to consider outsourcing your design needs especially since Brandripe offers you a pay-as-you-go model. This means you can pause, reinstate or cancel our services without any fuss or hassle. Your finance department will love this.
Unlimited requests and revisions
What do in-house graphic designers and freelance designers have in common? More work means more money. Hiring Brandripe for your design needs is the smart business choice to meet the growing design needs of your companies.
What's more, is that Brandripe even offers to design for the various brands under your company's umbrella at no extra cost. You are also guaranteed to love the final design because Brandripe offers unlimited revisions.
Fast and consistent turnaround
Brandripe promises a 24-48 hour turnaround on each request. No medical leaves or trips to the Bahamas will get in the way of meeting timelines. Not unless you gave your design tasks to a freelancer or an employee. Brandripe has a team of experienced creators who can do the work you need quickly and consistently.
Full ownership of the designs
Whatever we design, it's yours to own. You can repurpose the designs across any and all platforms without a single extra cost. You will be provided with the source files that were created just for you.
Fixed cost and no hidden fees
Choose between our packages and enjoy a fixed monthly rate. This should give you an advantage over your competitors who might also be implementing the hybrid work but didn't consider outsourcing design work. Our fixed monthly subscription starts from RM1,899 which includes the services of our professional creators, a dedicated project manager, unlimited requests and revisions for a variety of designs such as social media content, digital ads, branding, animated GIFS, adaptation design, presentation slides, logos, photo editing, videos, podcast covers and more.
We understand corporate needs
Brandripe has worked with over 100 MNCs and SMEs. From a workflow perspective, we will work with you side by side to ensure smooth and centralised management of your design needs to support your hybrid work style. Our output has also created a positive impact among our corporate clients. See our portfolio to get an idea of what we can accomplish for you.
Most of all, we at Brandripe walk the talk. Just like you, we have adopted hybrid work and completely understand the benefits and struggles of this new way of working. If you are looking for an outsourced partner to deliver your design needs, then let's get on a call!