Image: Pexels
There is a famous saying that goes like this: "If you want to go fast, go alone. But if you want to go far, go together."
We know it's cliche, but in the world of design, no truer words have been spoken.
To truly make something great, we often need more than just one head in the game – and here's where another famous saying is relevant: "Two heads are better than one", and the same goes for graphic designers!
More often than not, a designer would find themself buried in a brief, deciphering what a client may want in their own way. But even the most talented designer can't tap into their full potential if they are trapped working in a silo. The design process is actually collaborative by nature, but many people consider designing a solo gig.
This is why we, as graphic design providers, must stress the importance of collaborative design.
What is collaborative design?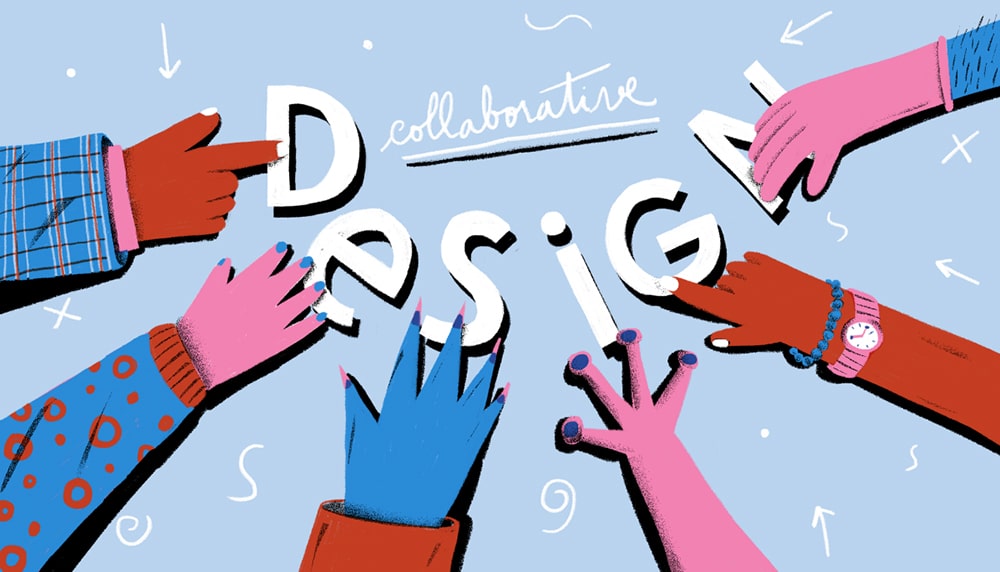 Image: Medium
Collaborative design is a comprehensive process where multiple stakeholders in a project can give real-time feedback through all stages of the design process. The client's team usually consists of product managers, marketing teams, engineers and the like.
This whole process is then typically segregated into three phases: ideation, creation, and revision, and the goal is to create a final product or service that meets the needs of everyone involved.
Typically, companies such as advertising agencies use collaborative design, though it can be helpful for just about anyone and in all kinds of contexts. For example, even if you're creating something new for your own business, brand or company, a collaborative design process can help you develop a better idea.
How does this benefit you, as a business or brand owner?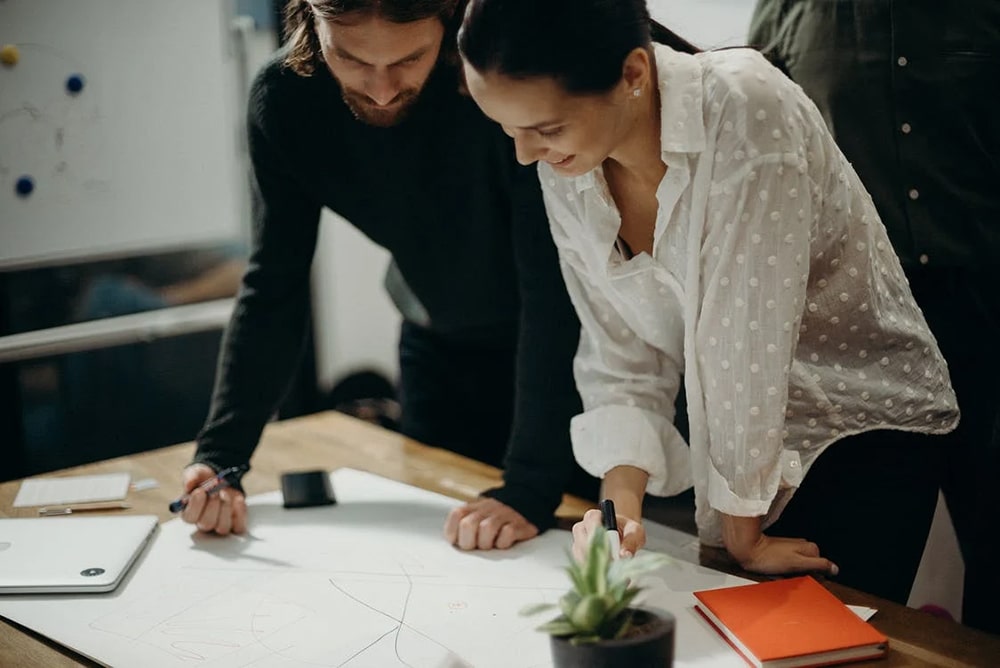 Image: Pexels
Your brand is not exclusively decided upon by the marketing team, and your design pieces should definitely not be as well! That being said, there's no rule that you can't design a product without collaboration, but with the collaborative design process, you can create top-notch quality designs.
Look at it this way: the lead-up to an end product is usually helmed by a team of stakeholders looking after different aspects such as research, development and more. It makes sense that such an important part of bringing that end product to the market involves the people behind the scenes, and what they think should definitely be taken into account when it comes to design.
For all you know, a researcher could have a better vision of what your product could potentially look like, and this can be further explored in conversation with your designers (which could be us!).
So, in an age where appearances are so important to attract customers, we highly recommend a healthy collaboration between clients and designers.
Just to put things into perspective for you, here are the seven benefits that all parties can potentially reap through a collaborative design process:
1. Inspiration comes with understanding
Designers view a brief from a creative point of view, but working collaboratively with various partners such as product teams, for example, would allow them to gain insight from developers on the technical feasibility of the design concept.
2. Increases client buy-in
When a client is directly involved in the whole process, they feel a greater sense of ownership in the end result. This helps the designer to create designs that best align with the business aspiration. On top of that, it helps streamline the workflow to be much more efficient as feedback is received in real-time instead of at the end of the project.
3. Builds powerful prototypes
When managed effectively, collaborative design can help teams to work faster. For instance, when it comes to building a successful app, teams need to get their product off the ground as effectively as possible. A collaborative design process and relationship ensure that the different profiles within a team can move together in harmony.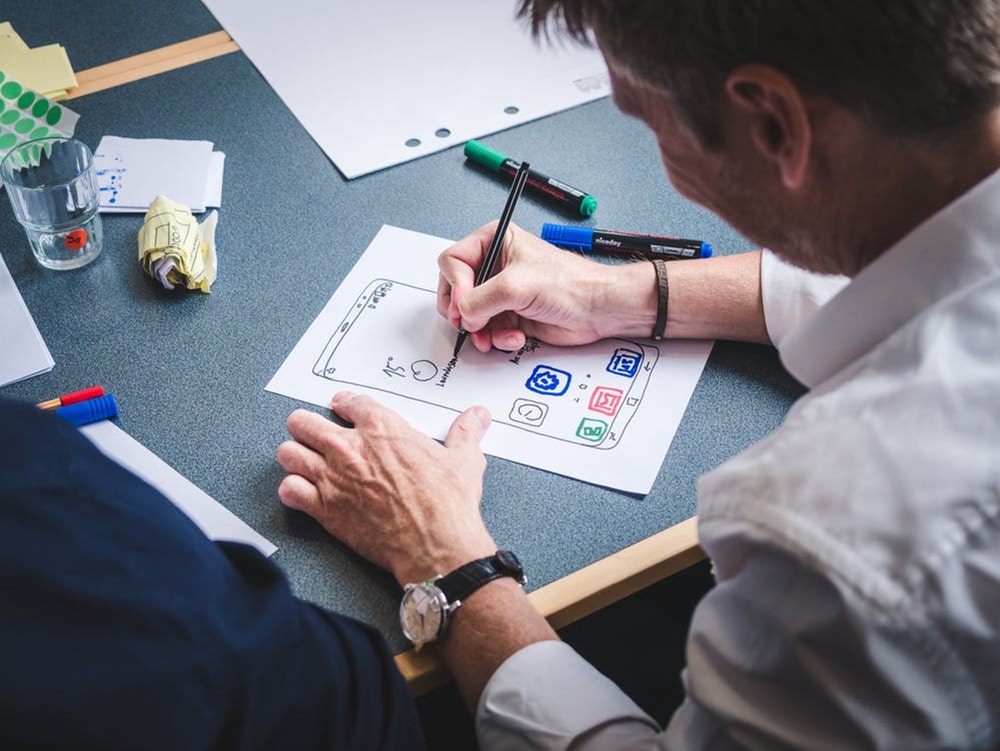 Image: Pexels
4. Provides a better user experience
Nobody knows customer behaviour better than the marketing and research teams. Having these stakeholders as part of the collaborative design process can help the designer to create a better user experience with practical designs that makes it as easy as possible for the end user to get what they want.
5. Fosters transparent communication
Due to the fact that there may be so many teams involved in a business or brand or even product design creation, it's important for your team members to get together and share updates regularly. Frequent updates provide everybody with the opportunity to share their priorities for the day and align as an overall unit. This also extends to outsourced parties, as they will be able to stay on top of changes in creative direction, messaging and whathaveyou.
6. Provides internal and external views
A designer is on the outside looking in, while product and development teams, for example, would have viewed the entire process from a more exclusive and internal lens. Mixing these perspectives would give both parties a good balance of internal and external views, and allows the formation of the best go-to-market strategy for a brand.
7. Leverages different strengths and skills
Everyone brings different skill sets to the table. Collaborating with a versatile group of people allows a creative concept to be analysed from various angles. This also means that it is given the right blend of input that can be moulded into the best possible version.
Collaborate on a design with Brandripe today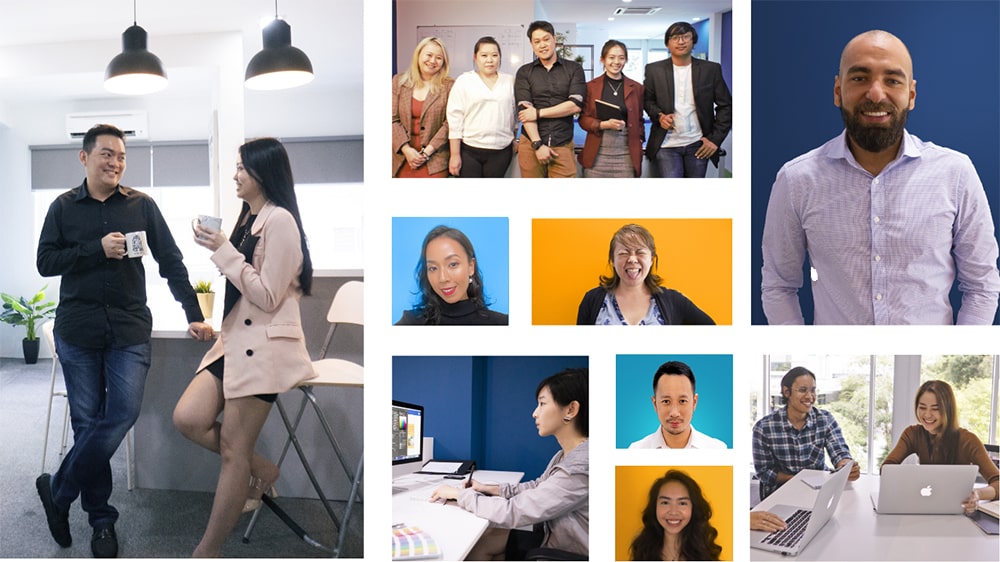 Image: Brandripe
Having the ease of access to connect and stay up-to-date with a design project is essential for a good collaborative design process. With the right team, the right tools, and a place where communication is the key to discovery, great projects will come to life – and this applies to businesses of any nature.
However, having the right partners in the first place is even more important; you need experts who are well-versed in different aspects of creativity and a trusted partner that can move flexibly to your needs.
Brandripe can be that collaborative and creative partner for your business, brand or company. To date, we have successfully supported large and small brands alike across the region in scaling up. Not only do we offer a wide range of graphic design support (such as logo, packaging, social media and more), but we also offer both speed and agility with our guaranteed 24 to 48 hours turnaround time and unlimited revisions.
That aside, we are a team of experts that genuinely want to help your vision come to life, and would love nothing more than to collaborate with you on designs that would wow your audience.
Since one of the benefits of a collaborative relationship is fostering transparency and communication, we'll let you in on why we would be the perfect partner for your graphic design endeavours. Here are eight good reasons:
You'll have unlimited requests, which means that you will be able to make as many revisions and requests as you want.
You'll get a 14-day risk-free trial, to test your project with a designer, evaluate their performance and give feedback.
You can survey and select from over 200 design options, spanning different categories such as social media posts, infographics, brochures, posters, logos, merchandise and more -- all created by a team of graphic designers with different core competencies to ensure that all types of design needs are met.
As mentioned earlier, you get fast and reliable services, as Brandripe's 24- to 48-hour turnaround time ensures that your design will be ready as soon as possible.
You won't be blindsided with hidden fees, as only one flat rate is charged each month and you'll have access to a team of professional designers. There are also no overhead costs, no contracts and no commitments.
You will get full flexibility, meaning you can create as many designs as you want, pay as you go, or pause and cancel as you wish.
You will receive quality work for a reasonable price, with a monthly package that starts at RM1,695 and includes pre-vetted designers, a dedicated project manager, unlimited requests and revisions.
You will get full ownership of the designs, so you'll have 100% rights to both the outcome and source files that were created just for you and your business.
If that sounds like something you definitely want to explore, get in touch with us for a 15-minute VIP Demo Call, or drop us a line at hi@brandripe.com or ping us via chat on the main page! We can't wait to collaborate with you.