Image: Pexels
TikTok is a major social media platform with over 1 billion users and counting – and you're probably part of that statistic too! Known as Douyin in its home market in China, TikTok is the brainchild of a multinational internet company, ByteDance. The app supports its users to share short videos for up to 60 seconds which can be paired with songs, special effects and text overlays. Those that used Vine back in mid-2013, would be very familiar with TikTok.
The strong adoption of TikTok is due to its user-friendly experience, the fact that the app itself provides ample material to encourage creative content and an algorithm that provides a wide reach – these are all the things that a smart business marketer can take advantage of in an effort to reach millions of Generation Z, millennials and Generation X users.
According to Business of Apps, if your business targets women between the ages of 20-29, then you absolutely need to take advantage of this platform.
However, it can be challenging for businesses to stand out in an ocean of content and users. To help you there, we are breaking down everything you need to know about establishing your TikTok page and maybe even achieving viral fame!
Each section of this guide is curated for your brand goals and business type so you can effectively connect and engage with your potential customers.
How to use TikTok for your B2C business
TikTok is a great place for B2C brands to supercharge their business as the platform provides many features to help businesses form a deeper connection with their target audience.
If you want to use your TikTok account to showcase the sincerity and authenticity of your brand then these are some angles you can consider for your content.
Fun Fact videos: According to Forbes, subject matter experts will always perform better than direct selling. Creating educational content to showcase your expert understanding of a product or service relating to your business.
Problem and Solution videos: Most successful businesses provide a solution to a problem. It's important to communicate the solutions your business provides to your potential customers. For example, if you run an on-demand graphic design company, you can communicate your knowledge of the challenges faced by the alternative options in the market and how your business addresses them.
Corporate Social Responsibility videos: With a growing social responsibility awareness, more consumers are drawn to purchase from brands that are making an effort to minimise or alleviate their environmental impact. You can create videos to talk about the stringent processes that make your high-quality products, the sustainability practices or even the positive social impact of your business.
Tips and tricks videos: If your product is relatively new to the market, tips and tricks videos can help your potential customers imagine how to use your products as part of their daily lives.
How to use TikTok for your B2B business
We know what you might be thinking: how can TikTok be a space for business consumers? When you think business, one immediately thinks of LinkedIn. However, referring to B2B Marketing.Net, TikTok is still a great tool to engage with the younger generation. In fact, with its highly engaged millennial and Generation Z audience, it's a great tool to reach young business owners and recruit talents.
Here are some content ideas for your B2B strategy on TikTok.
We're Hiring video: Reach job seekers on TikTok by sharing your application process and tips for best practices during interviews so your candidates can be better prepared for your expectations. If your company has incredible benefits and salary packages, this is a great time and platform to highlight them.
Create a Hashtag Challenge: This is a great engagement strategy especially if you are running a startup. Chances are your employees are actively using TikTok so you can encourage content from them by creating weekly or monthly Hashtag challenges. From a public perspective, it's a great way to humanise your brand.
How I Started: This type of content can do two things at once. It helps the public understand where you came from and it presents an opportunity to network with fellow business owners. This is especially important if you are a supplier for other businesses.
Case Study videos: Let your potential customers know about your solutions and capabilities by showcasing a case study from your existing clients. Talk about the problems you solved for them and showcase their testimonials while you are at it!
Business Tips videos: If you are a supplier for businesses, then you can use this video style to showcase your understanding of conducting business. Share best practices in pricing strategy, marketing or even supply chain management so your TikTok audience will have a positive perception of your brand.
Other important tips for TikTok for Business
Here are several other things that businesses on TikTok should pay attention to and remember as often as possible:
Push Content: Volume plays a big role in getting favourable views on TikTok. The more content you put out, the more you learn about your audience.
Hashtags: It is recommended to not use more than seven hashtags as there is a character limit (300). It's important to engage with other pages or businesses that are similar to yours on TikTok. You will be able to spot the best-performing hashtags to apply to your own postings.
Work with Influencers: Leverage the popularity of influencers by co-creating content and repurposing the content so you are getting more mileage for your money.
Create a persona: Deciding on a character for your brand can help you create a consistent brand language, colour, visuals and content style.
Ensure a clear Call To Action (CTA) on each content: Whether it's to follow your page or drop a message to your company phone, ensure there is a clear action that you need from your audience.
Businesses pages on TikTok to follow
Here are our personal recommendations on the businesses pages that you could follow on TikTok:
E-Commerce Brand
Shopify: https://www.tiktok.com/@shopify
This page has a clear target audience: aspiring entrepreneurs. Shopify's content not only puts up content that shows an understanding of being in their target audience's shoes but also provides helpful tips and tricks that would have their audience hours of research.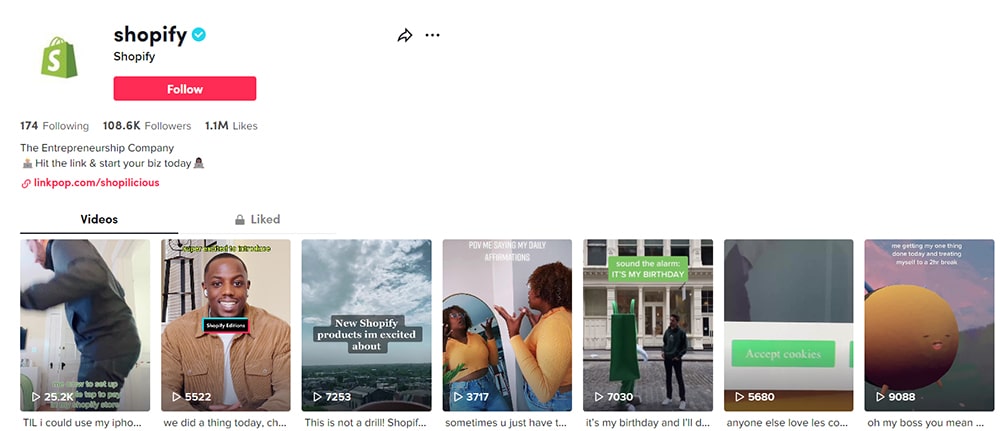 Screenshot from Shopify's page on TikTok
Jewellery Brand
Liv Portio: https://www.tiktok.com/@livportio?lang=en
Centred around her passion for jewellery making, the founder of Liv Portio connects with her audience by sharing her story, her process, her struggles and her victories.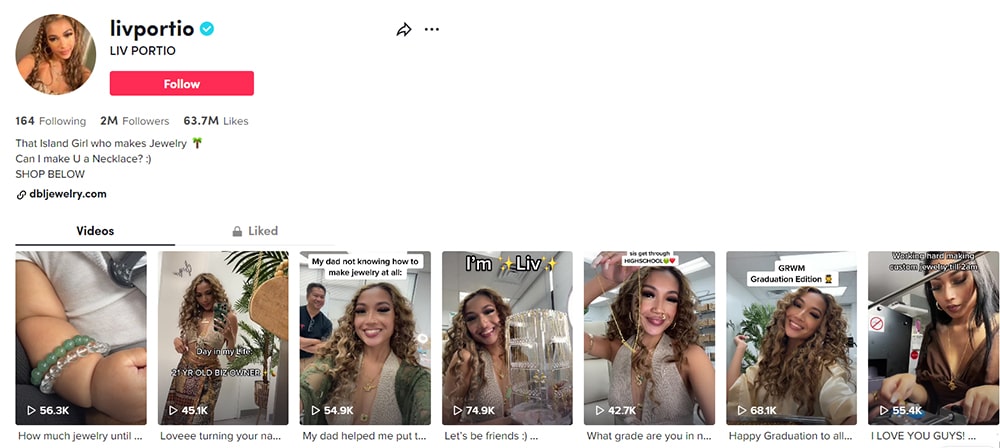 Screenshot from Liv Portio's page on TikTok
Make-up Brand
Fenty Beauty: https://www.tiktok.com/@fentybeauty?lang=en
The brand content of Fenty Beauty is beyond colourful makeup and skincare; it focuses on self-acceptance and challenging beauty norms. It is also a page that encourages self-expression and creativity.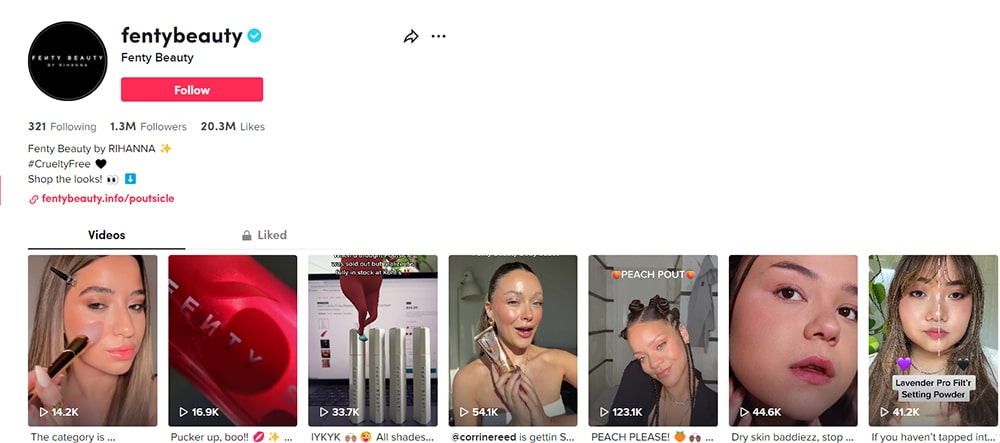 Screenshot from Fenty Beauty's page on TikTok
Technology Brand
Duolingo: https://www.tiktok.com/@duolingo?lang=en
Even though Duolingo is a language app, the content style of the brand is entertaining. The content is centred around their mascot, Duo, who entertains the TikTok audience with his antiques from corporate espionage to not-so-gentle reminders to take your language lesson. This account is also known for trend jacking so if you need trending content inspiration, this is the one to follow.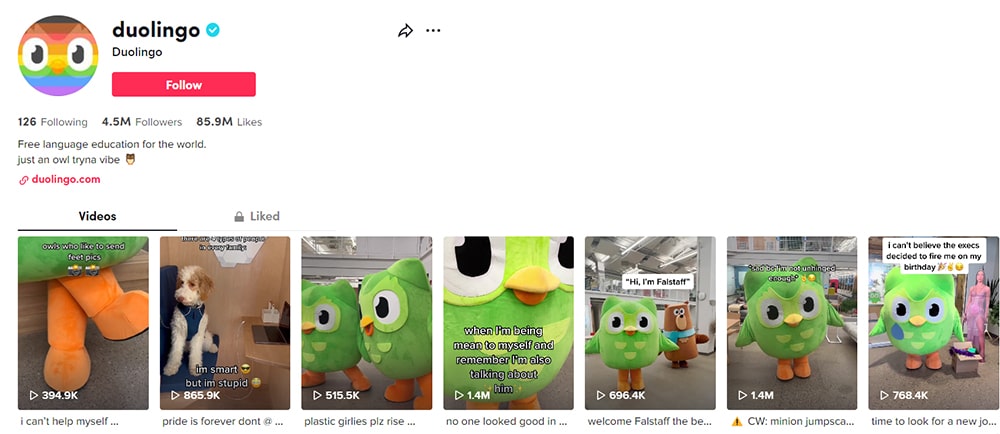 Screenshot from Duolingo's page on TikTok
Leave your TikTok video needs to the experts at Brandripe
Now, like any social media platform, populating content is key to establishing your brand. Here is why you should leave it to us, the Brandripe team, to help you.
Brandripe offers flexible plans to meet your business needs. Beyond static graphic designs, GIFs, presentation designs and more, Brandripe also offers an affordable subscription plan for video editing. From as low as RM4,490 per month, we can help you kickstart your TikTok page with content.
Our team is made up of top graphic design experts which will significantly reduce any margin of errors.
Brandripe processed over 10,000 designs with a 4.5 star and above rating from well-known brands including GSC, Sime Darby, Zalora and more. View our work here.
We offer unlimited revisions and unlimited requests at a fixed monthly rate.
You can even try us out for 14-days with a money-back guarantee.
Flexibility is our policy. Our model allows you to pause, stop, or reinstate your plan so you are basically paying upon usage.
No extra fees for the full ownership of the designs. All the final products that Brandripe has designed will fully belong to our customers. We even provide the source files.
Find out about our plans and how we can work with you by scheduling a 15-minute VIP Demo Call with us. It would be the best 15-minutes you have invested to grow your business, as we will bring you through behind the scenes and our representative will help talk you through the best subscription model to fit your business needs.
Until then, take a look at the packages below!