Are you a small business or a medium-sized marketing team looking to outsource some graphic design work?
If the answer is yes, chances are you would have probably done some research and come across 99designs.
For those of you who aren't entirely sure about 99designs, it is a global graphic design service provider mainly targeted at startups and small businesses.
Its operating model is quite simple; you can either choose to engage a freelancer via a contest marketplace approach, or you could also engage the platform itself to provide a freelance outsourcing solution for you. The latter will help you connect with freelancers that match what you are looking for via their freelance talent solution service.
You can outsource a variety of graphic design work on 99designs. Some of its prominent services include logo designing, web illustration, product packaging as well as book covers. It is safe to say that you can get just about anything designed on this platform.
However, there are also limitations and pain points that you need to take note of before deciding to sign up with 99designs.
The downsides of using 99designs
It's important that you cover all bases before signing up with 99designs – or any kind of creative design service provider. This includes knowing exactly what the cons are. With regards to 99designs, here are the three potential deal-breakers:
If you're comparing 99designs with, say, hiring a freelance graphic designer offline, then it could be a more affordable option. That being said, compared to similar services available these days, 99designs is actually not that cost-effective.
Here is an outline of some of their basic packages for a typical logo design service: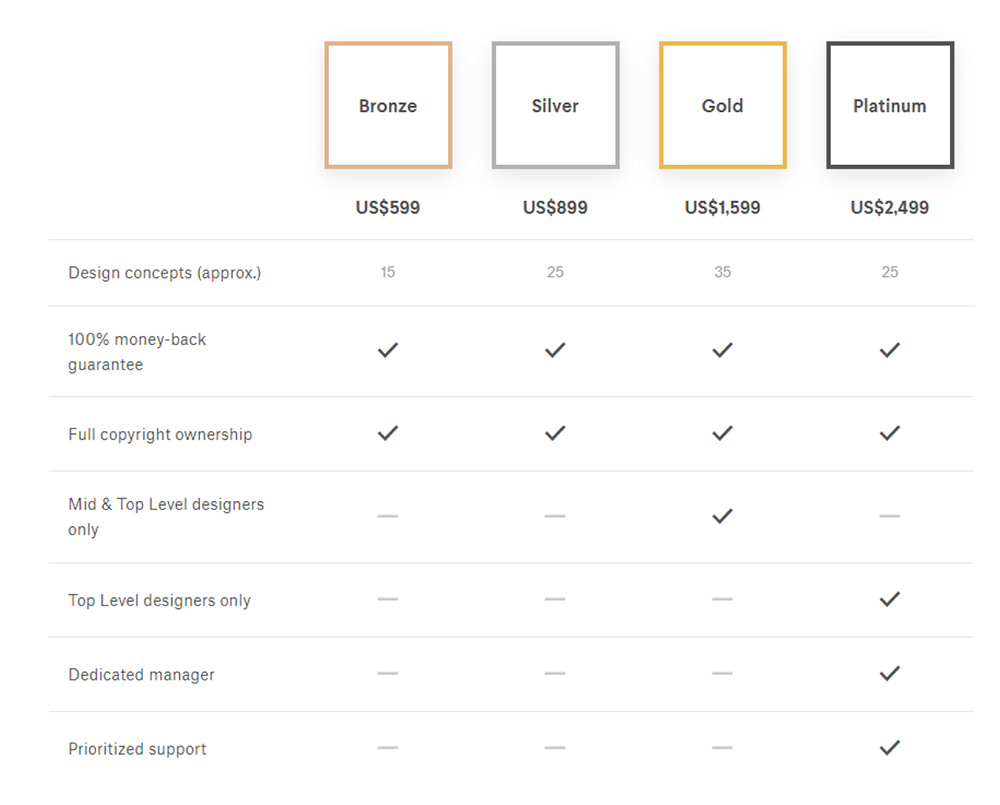 Image: Awesomic
Notice that their services actually cost double or more compared to their competitors – and this is excluding a plethora of add-ons that you may need to include.
This is a crucial factor that you need to be mindful of when it comes to engaging or outsourcing any form of creative or design work for your brand or business.
If you scrutinise the terms and conditions that are tied to 99design's freelance package, you will notice that there are terms that need to be fulfilled before a graphic design work is 100% yours.
Here's a gentle reminder to always read the fine print and understand the terms carefully, because with 99designs, choosing and declaring a contest winner does not automatically give you exclusive rights to the work.
A quick search on user forums would give you a good indication of the type and quality of work that you can expect from engaging a creative freelancer on 99designs.
Some of the recurring comments or concerns tend to focus on execution and output. There are also comments stating that the logos or the graphic design work on 99designs are not created with unique ideas and that most of them look similar to other general designs displayed on the platform.
So, if you're someone who's looking for unique artworks to call your own (or your business' own), this is an important factor to take note of.
99designs alternatives
Now that we've pinpointed the possible problems you might encounter with 99designs, it's only a given that we offer solutions and alternatives. Mind you, these aren't just random alternatives – these are better and cheaper options.
Unlike online platforms such as 99designs and its competitors, Brandripe is a design specialist agency that offers you a subscription-based model that is highly competitive in both pricing and overall customer experience.
Here is an outline of Brandripe's pricing models, which are significantly more cost-effective considering that it is 100% end-to-end where you are guaranteed to have full ownership of your artwork's copyright: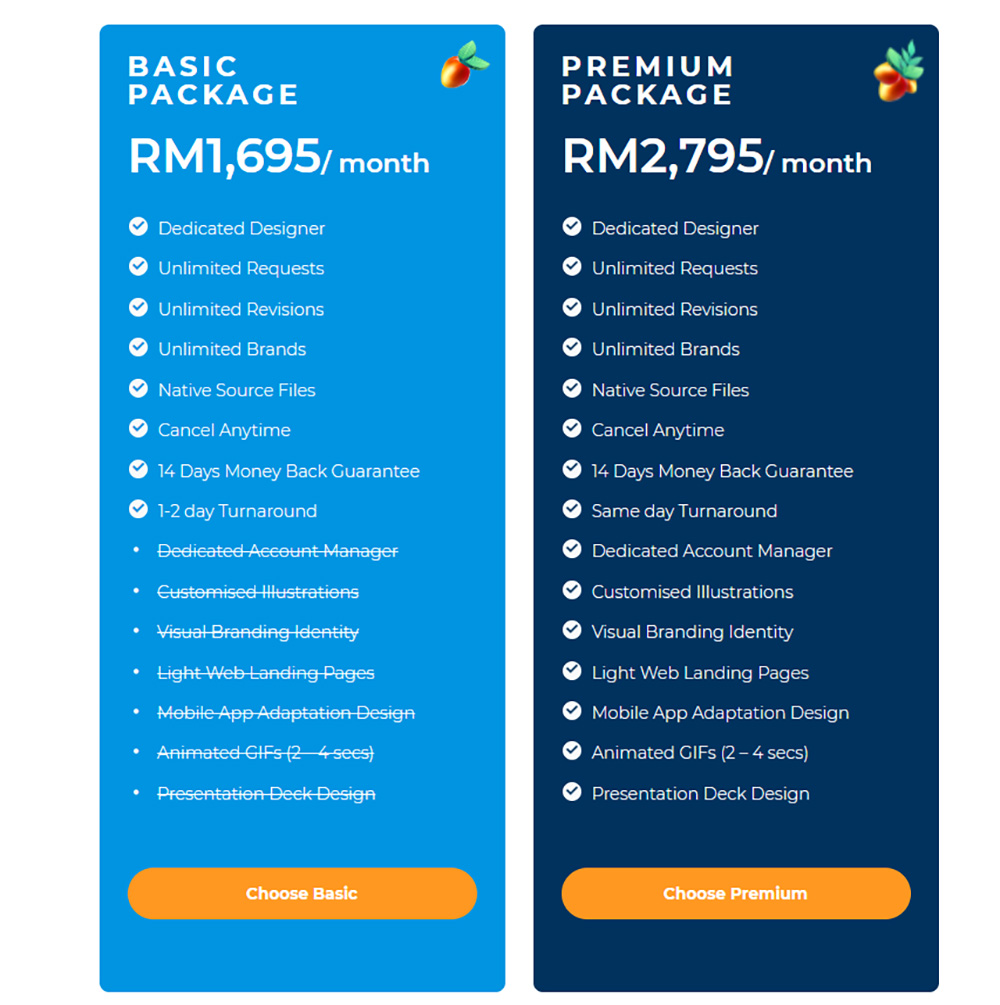 Image: Brandripe
On top of that, Brandripe also offers a one-of-a-kind feature: unlimited requests and revisions with every subscription. This is especially helpful if you're a budding business owner or part of an agency, as you'll require loads of different artworks for different goals such as merchandising, advertising and more.
What is really comforting about engaging Brandripe for your graphic design needs is that they are a trusted partner for some of the biggest brands in Southeast Asia such as Zalora and GSC, just to name a few.
You can outsource pretty much all of your graphic design needs to Brandripe as they provide extensive design services like logo creation, packaging, print materials as well as digital materials such as social media assets.
DesignContest boasts a network of 200,000 pre-qualified designers, which means that engaging a graphic designer on DesignContest is fully operated on a contest basis. This is usually kickstarted by outlining the price or the amount that a client (you) is willing to pay for the service. From there, you can then pick from a selection of design options created by the pool of designers.
One good thing about DesignContest is that setting up the contest or the brief requires no prepayment. Plus, you get to outline the design style that you want.
Then, upon receiving submissions, you will have the opportunity to review, score and comment on each of the artwork and communicate with the designers that you have shortlisted to get the design piece that matches what you are looking for.
Once you have selected a winner, the designer will then prepare the source files and sign the copyright transfer document over to you.
Below is an overview of what a logo design service may cost you if you subscribe to DesignContest.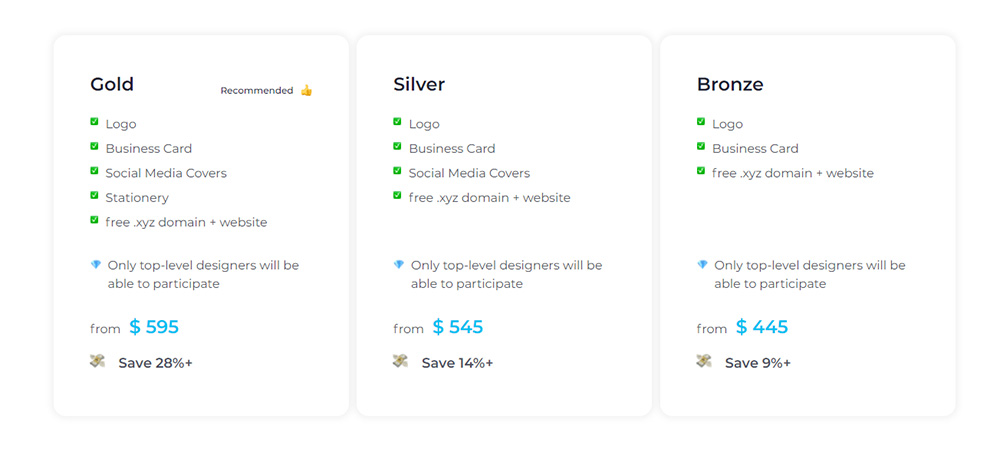 Image: Screenshot from DesignContest
To be honest, if we were to take an on-paper comparison between 99designs and DesignContest, they pretty much operate on the same model. However, one key difference is that DesignContest only offers the contest marketplace option, unlike 99designs which has a talent solution option as well.
DesignCrowd is a creative freelancers' marketplace that allows you to outsource pretty much any type of creative graphic design work that you can think of. It taps into a global pool of an impressive 1 million designers that you can choose to work with, and from any country that you prefer.
In terms of its operating model, DesignCrowd is really not that different from DesignContest. You'll basically need to submit a brief and wait for the process to unfold – meaning, wait to receive submissions and select what you'd like to proceed with.
Notably, in comparison to 99designs, DesignCrowd does offer a bigger bang for your buck.
Below is a snapshot of a logo design cost outline, which offers you a more flexible approach as well as more effective ownership as compared to what you would have seen earlier previously with 99designs.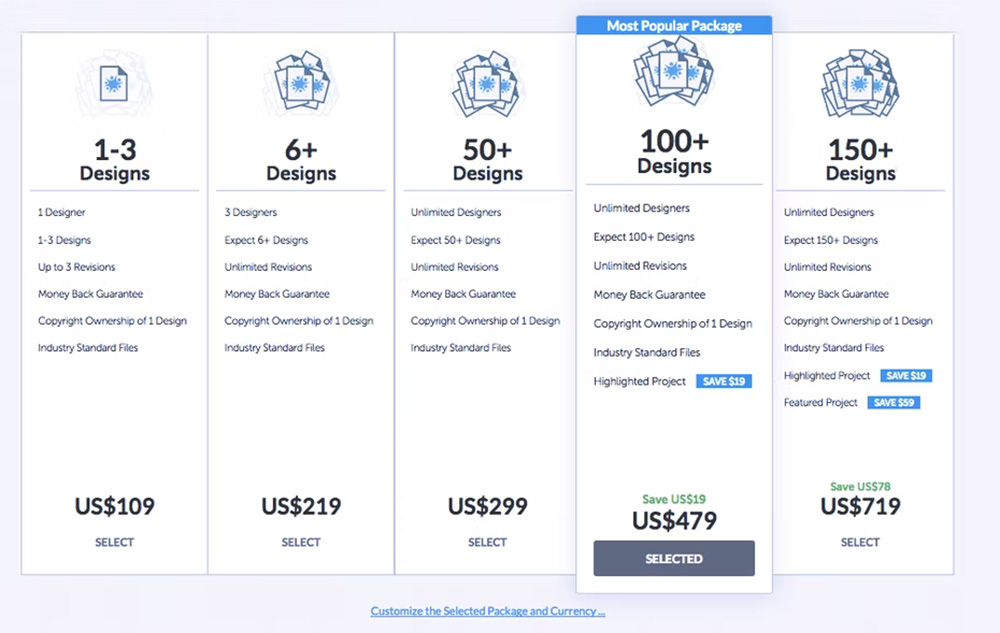 Image: 99designs
The best and cheapest option: Brandripe
It is important that you are aware of your needs and budget restrictions and ensure they are aligned, so they would make more sense to you in the long run.
Having reviewed the different design platforms above, Brandripe easily checks all the boxes for every business owner, agency team player or even someone who's just looking to create some artwork.
The pros of working with Brandripe include:
Unlimited revisions and requests
Access to a team of professional designers to support your graphic design needs such as logo, packaging, advertising, posters and more
A 1-2 day turnaround time
Full ownership of artwork(s)
A 14-day risk-free trial so you have time to evaluate the designer and their work
No hidden costs, contracts or other terms and conditions
A flat monthly fee that's as low as RM1,695 with the freedom to pause and start or cancel anytime
From the above list alone, you may be able to gather that working with Brandripe is the most advantageous option available – not only in terms of price (which is far more affordable than other subscription-based services) but also in the flexibility that it offers.
Flexibility is a huge factor to consider before signing up for a graphic design service, as creative work is a long journey that involves a lot of revisions and reiterations as your business or agency grows.
While most graphic design services would charge you extra for any minor adjustments or edits, that's not the case with Brandripe as they truly put the needs of their clients and customers at the forefront of their business model.
Plus, while copyright can be a cause for contention with other graphic design firms or services, Brandripe is more than happy to give you ownership of what rightfully belongs to you with no questions asked – they were created for you, after all.
If working with Brandripe sounds like something you'd like to explore, you're most welcome to speak to a representative to find out more. You can do this by scheduling a 15-minute VIP Demo Call, or dropping them a line either at hi@brandripe or via the Chat toggle on the main page.
From there, a team member will talk you through how things work and recommend a subscription option that would work best for your business needs – and budget!