Image: Pexels
It's no secret that on-demand graphic designers are the bee's knees for business owners, agencies and people looking to create any marketing or advertising collateral.
With the post-pandemic recovery happening in full swing, more businesses are throwing their all into producing consistently high-quality visuals to attract and retain customers. One of the prominent choices of on-demand graphic designers to do the job is Design Pickle, which offers a subscription-based package in exchange for a defined scope of design deliverables.
In this guide, we have considered a variety of business needs and propose alternatives to match those areas. But just in case you've never heard of Design Pickle before, here is what you need to know.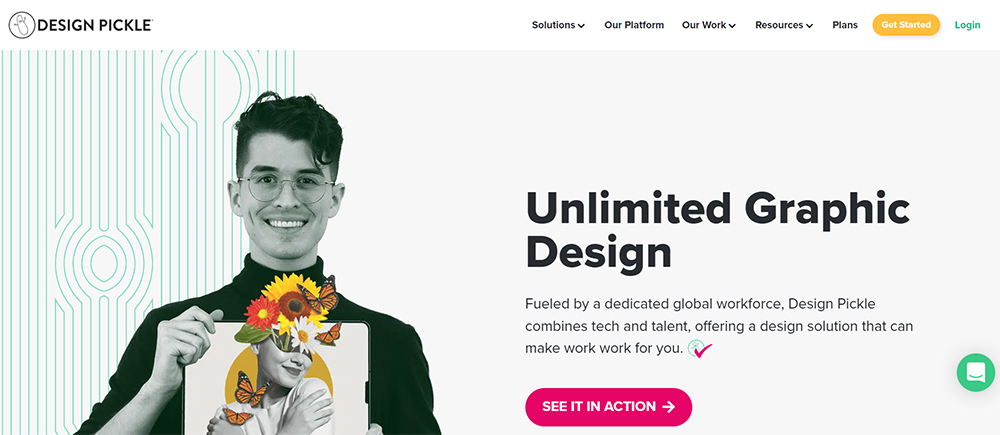 (Screenshot from Design Pickle's website)
What is Design Pickle?
Design Pickle is an Arizona-based global creative service which claims to offer unlimited designs with a flexible subscription plan. Their unique differentiating factor is providing access to an impressive library of stock images and graphics from Unsplash.
Cost: Starts from $499 per month (RM2,193)
Number of users per account: 10
Onboarding process: You can make design requests via email or the dashboard on the Design Pickle website. All you need to do is provide the name of your request, add file size and dimensions, provide some references and give a short description of what is your visual requirement and of course the file type you require.
What's included:
Graphic Design
Logos
Social media graphics
Flyer design
Merchandise & packaging design
Landing page design
Infographics
Podcast graphics
Custom Illustrations
Illustrated Logos
Custom Infographics
Portraits
Mascots
Lettering & Typography
Colouring Books
Comics
Upsides: Design Pickle offers unlimited designs and revisions. They also have a short turnaround time of 1-2 days. They are well regarded in the industry (with a 4.8 star Google My Business review at the time of writing).
Matter of fact: Like most on-demand graphic design services, they offer Adobe source files. They don't offer any free trials but it is counterbalanced with their 30-day moneyback guarantee. They also offer a unique feature that allows role assignment in the account such as Admins, Organizers, and Members.
Admins control all subscription and payment information. Admins can add, modify, and remove users of any role. They can also create and edit requests on behalf of all users.
Organizers can add, modify, and remove users who are Organizers or Members. They can also create and edit requests on behalf of all users.
Members can create and edit their requests. They can't add or remove other users, but they can view all of their company's requests.
Downsides: While Design Pickle allows up to 10 users in a single account, the Design Pickle Slack channel is limited to 5 users which makes it challenging to align with your company's growing team and needs.
Design Pickle prices start from $499 per month (RM2,193) which offers essential design deliverables such as graphic design and custom illustrations. All considered, there are alternatives in the market which provide more design deliverables at a lower subscription price – which we will get into shortly.
The best Design Pickle alternatives to use in 2022
While Design Pickle is popular, it might not be the best fit for your business needs specifically if you are a startup or small business owner. In this guide, we share the best Design Pickle alternatives to meet your needs and are kinder to your wallet.
1. Brandripe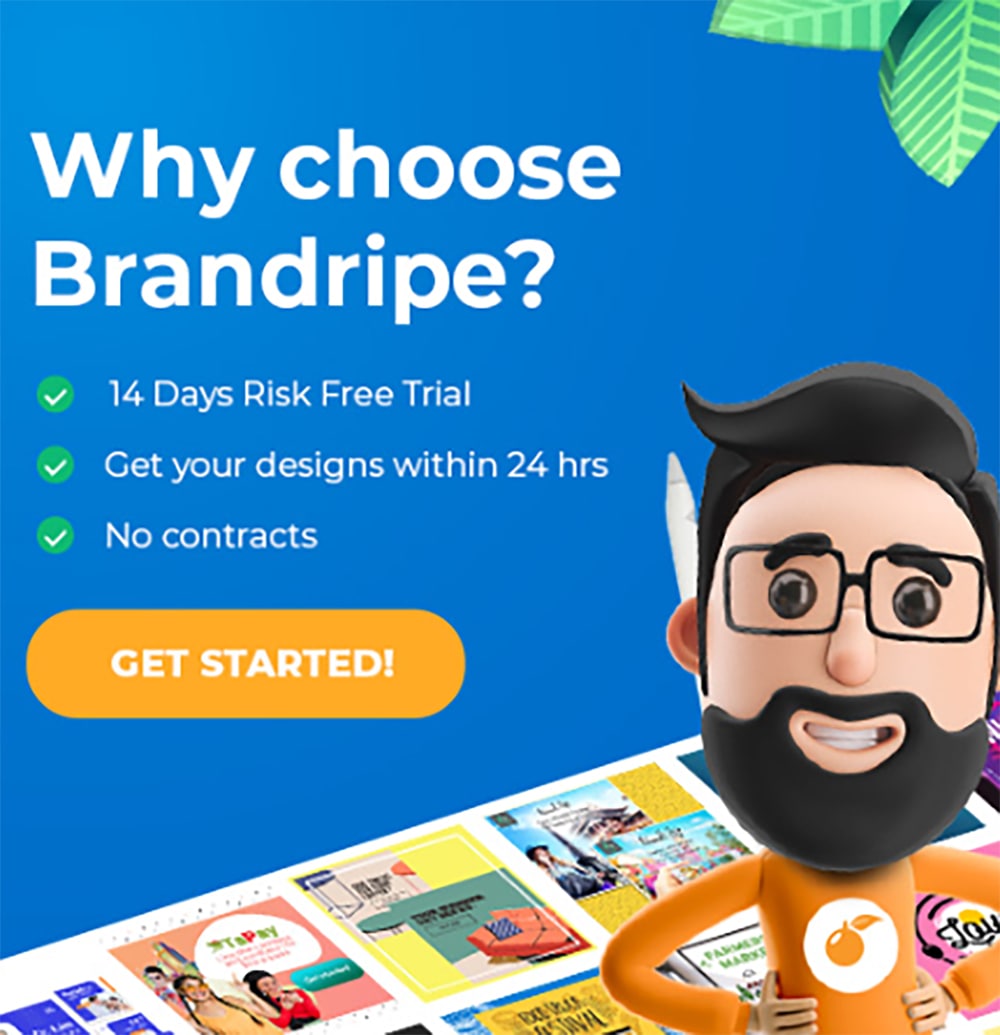 Image: Brandripe
Hear us out: Brandripe is on the top of this list for several reasons. but first, you should know that Brandripe is also a subscription-based on-demand graphic designer. Aside from unlimited requests, revisions, users and brands, there is still a long list of reasons why Brandripe is the perfect partner for agencies, small businesses, marketing teams and startups.
Cost: Starts from RM1,695/month ($385)
Onboarding Process: Once you subscribe, you only need to fill in the request form to highlight the name of the design, its purpose, the description of your visual expectation, the size and dimensions along with attachments of references and relevant materials to support your request. Other than email, Brandripe also offers a convenient portal for you to track the progress of your designs and communicate your needs. The work will continue until you are completely satisfied with the design.
What's included:
Logos & Branding
Logos
Brand Guides
Business Cards
Stationery Sets
Web & Mobile
Simple Landing Page Design
Web Page Adaptations
Web Icons
Mobile Page Adaptations
Arts & Illustrations
Customised Illustrations
Blog Posts
Icon Sets
Social Media, Email & Ads
Social Media Banner
Facebook Ads
Email Template
Display Ads
Promotions & Print
Flyers
Brochures
Booklets
Posters
Business
Presentations
Infographics
Business Reports
Here are the requests that are available exclusively with Brandripe's Premium plan
2 -4 secs animated GIFs
Customised illustrations
Light web landing page (must have wireframe)
Visual branding identity (Branding guide)
Mobile app adaptations (must have existing app design)
Presentation Deck Design (PowerPoint and Google Slides)
Motion graphics video, video editing and compositing (only available with 2 premium plans)
Upsides: Brandripe offers unlimited requests, revisions, users and brands. It's really a great bang for your buck considering the subscription fee is already lower than Design Pickle. It's also evident that Brandripe has worked with enough businesses to understand the value of flexibility in their offer to provide free trials, pause or cancel anytime, flexibility to move between plans and, of course, the 24- to 48-hour turnaround time.
Also, it's worth re-mentioning the affordable and reasonable subscription fee that starts at RM1,695 per month with the option of discounts if you commit to a quarterly plan (5% off) or an annual plan (20% off)
They also do their part in making the world a better place by pledging their services to local and regional charities. So your subscription isn't just making things better for your business, but you are also playing a part in helping the community.
Matter of fact: With Brandripe, all the designs that are provided to you will be yours to keep.
Downsides: There is a certain scope of work that Brandripe does not cover which includes web development, full-scale IU/UX design, advanced PDF documents, 3D design and complex photo composting and editing. However, if you don't really need this for your business then Brandripe is just right for you.
It's understandable if you are interested to skip the rest of this article and just schedule a demo to get a preview of the inner workings of Brandripe.
2. Kimp.io

Image: Kimp
Canadian-based design service Kimp has been in the graphic design scene since 2003. To date, Kimp boasts over 250 team members worldwide and aims to help businesses with their design service. They also provide a subscription plan and cover a wide range of designing deliverables. Unlike Design Pickle and Brandripe, they rely on Trello to manage projects and offer Zapier integration.
Cost: At a glance, you might think the subscription is $299.50 (RM1,131) but read the fine print and you'll notice that is only a 50% discount for your first month. The actual subscription starts from $599 (RM 2,630).
Onboarding Process: Instead of a website dashboard that Design Pickle and Brandripe offer, Kimp uses Trello or email. The details of the request required are similar such as image references, text copy to be inserted, the goal of the design, providing brand assets, size and dimensions, preferences of colour and fonts, visual pitfalls to avoid and a brief description of your industry and target audience.
What's included:
Amazon Graphics
Background Removal
Basic GIFs
Billboards
Blog Images
Book Covers
Book Layouts
Booklets
Brochures
Business Cards
Business Reports
Characters & Mascots
Company Profiles
Corporate Folders
Custom Illustrations
Display Ads
Ebook Covers
Ebook Layouts
Ecommerce Graphics
EDM (Email Direct Mail)
Email Signatures
Event Invitations
Flyers & Posters
Icons
Infographics
Landing Pages
Logos
Magazine & Newspaper Ads
NFT Designs
Newsletters
Packaging & Labels
Podcast Covers
Point Of Sale Materials
PowerPoint Templates
Presentation Decks
Print Ads
Product Mock-ups
Promotional Materials
Restaurant Menus
Signage
Social Media Posts & Ads
Stationery Sets
T-shirt Design
Tradeshow Banners
Vehicle Wraps
Web Ads
Upsides: Kimp covers an extensive list of deliverables and they also have a separate and combined video design. This is a good option if you are sure you need all the things they can design. For example, if you are focusing mainly on digital marketing then perhaps the Brandripe price point would be better suited for you.
Matter of Fact: Depending on if you are open to using Trello, it is the main communication tool used by the Kimp team other than emails. However, there can be a lot of miscommunication and more time spent if communications are only via email. Trello can help reduce the margin for error but is perhaps not as effective as a website dashboard.
Downsides: One fine print stood out on the pricing page, which is the 2 active requests. This means that while Kimp does offer unlimited requests and revisions, they will only actively work on 2 requests at a time and the rest will be in the pipeline as each request is finalised. This could prove to be a problem when you have many deliverables that you need in a short period and not to mention the additional cost should you need to take another subscription plan to increase the number of active requests.
3. Penji

Image: Penji
I think you might notice a pattern but here is another subscription-based design service. Penji is a US-based design service which offers a flat monthly rate for unlimited graphic design, unlimited logo and branding, unlimited customer illustrations, unlimited brands and unlimited users. Sounds good so far? Read on.
Cost: Starts from $499 (RM2,191), with a variety of plans to meet growing business needs.
Onboarding process: Just like Brandripe and Design Pickle, Penji also offers design requests to be made on their platform. Users just need to fill up a form with all their design requirements and attach relevant files for the Penji team to realise their visual goals. The first draft will be shared within 24-48 hours and Penji works on one or two projects at a time. The rest will be put in a queue.
What's included: Anything from advertisements, and marketing materials, to even logos, and website/app designs can be submitted.
Upsides: Point and click revisions are available via the Penji platform. Penji offers a 30-day money-back guarantee should you find yourself dissatisfied with their services. They also provide storage for all the designs requested.
Matter of fact: It's a little uncomfortable to be unable to speak to the designers directly, however, Penji's chat feature is available for the purpose of communicating with the designers.
Downside: The subscription price point is definitely a deterrent for small businesses and agencies, especially if you consider that only one or two requests will be worked on at a time.
The Final Verdict
Most businesses will gain a lot of benefits from using an on-demand graphic designer, that much is clear. To determine the best platform to fit your business needs, you do need to consider your current business needs and your future business needs.
As such, having unlimited requests, revisions, users and brands with flexible pricing plans are often the popular choices for businesses that are making smart choices. So, if you have been weighing all your options above, you know that one team ticks all these boxes, and that's Brandripe.
While we did cover the benefits of signing up with Brandripe, you're most welcome to drop them a line at hi@brandripe or via the Chat toggle on the main page. We highly recommend scheduling a 15-minute VIP Demo Call with them though, just so you can speak directly to a team member as they talk and walk you through their dashboard, processes and whatnot.
Plus, they'll also offer you a 14-day risk-free trial just so you can figure out if working with them would be best for you. Seems like they've got everything covered!