In 2022, the Companies Commission of Malaysia recorded 48,221 newly registered businesses. Whereas, in 2021, the total number of new business registration stands at 45,394. This means that there are new players entering the industry yearly and they will likely be your competition.
What makes a difference between businesses aside from the uniqueness of your products and services is your brand. In 2016, Gartner published a study that revealed the average spend of companies on marketing is roughly 12% of their annual revenue. Some industries are expected to increase their budget by 10% annually.
Are these spends necessary or are there bottlenecks in your branding workflow that are costing your company more money than needed?
In this article, we will review common bottlenecks that we have found working with our clients from various industries and how we have helped them overcome them to meet their branding goals.
Why are businesses considering Brandripe?

Working with Brandripe comes with several benefits. Image: Brandripe
We will talk about our client's pain points in case studies as you go through this article, and how our collaboration has helped them accomplish their marketing goals. However, before we dive in, we'd like to share what attracts our clients to us in the first place. Brandripe offers the following features at a single price tag:
Unlimited requests: This means you can ask for as many designs as you'd need for the month without extra costs.
24-48 hour turnaround time: Our clients don't have to spend extra on express fees (which are usually hidden by freelancers or agencies till invoicing periods). We are already committed to providing express delivery and even give you additional design options to choose from.
Talent wealth:

Brandripe

employs industry-leading talents from all over the world with the capabilities to

provide

all kinds of high-quality designs. These include social media design, display ads, stop motion, landing pages, logos, packaging and more. We even do

NFT and

video designs.

You own it: Most agencies and freelancers charge a pretty penny for ownership rights. But not here at Brandripe. Having ownership of the visual we make for you allows you to flexibly repurpose the design for your needs in the future.
Starting from an affordable monthly fee, our clients embark on a seamless and expertly guided journey to fulfil all their design requirements. While we have an array of compelling reasons to choose our services, we believe the best way to showcase our value is through a case study.
This real-world example will provide you with a comprehensive understanding of how we operate and why partnering with us is a decision that promises to elevate your design experience.
Case Study: Educating the public about investment options through visually appealing content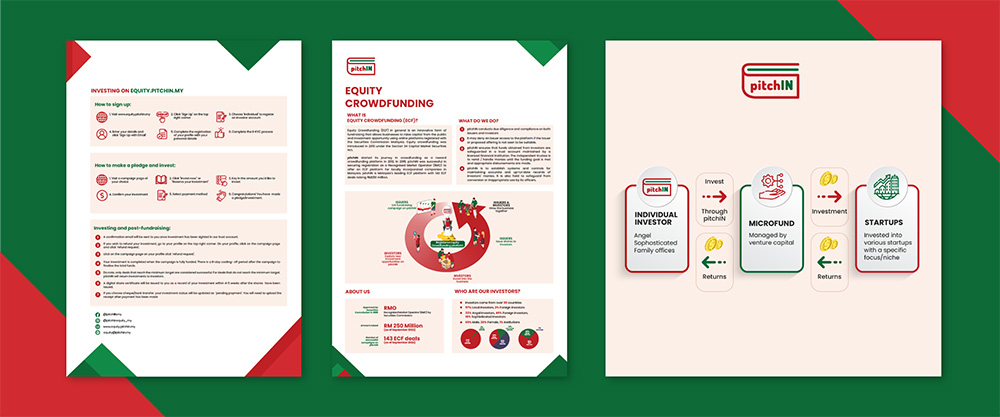 Background:
PitchIn is an investment company that empowers individuals to invest in innovative and high-growth businesses. They recognise the importance of educating the public about investment options and overall awareness about the topic. However, they were struggling to create visuals that were both informative and engaging.
Challenge:
PitchIn needed a partner who could create visually appealing content that would help them educate the public about investment options and overall awareness about the topic.
Solution:
Brandripe, a company renowned for its commitment to empowering businesses with outstanding designs through a streamlined workflow and budget-friendly solutions, was presented with this challenge. And so, Brandripe worked closely with PitchIn to understand their specific needs and goals and then developed a custom design strategy that would help PitchIn achieve their objectives. Brandripe's team of experienced designers created various visually appealing content, including infographics, animated GIFs and social media posts – all designed to be informative and engaging, while also being consistent with PitchIn's branding.
The result:
PitchIn was thrilled with the results of their collaboration with Brandripe, as the visually appealing content that Brandripe created has helped them to educate the public about investment options and overall awareness about the topic in a more effective and engaging way.
Conclusion:
This case study demonstrates how Brandripe can help businesses achieve their goals through visually appealing and informative content, and that its team of experienced designers can create custom solutions that meet the specific needs of each business.
What about you and your brand?
Are you ready to scale your business and minimise in-house design bottlenecks? We are here for you.

Let us give you a 15-minute VIP Demo Call today and start crafting your unique success story together!