In a world driven by visual appeal, the saying 'content is king' could not ring more true. Businesses and brands are constantly seeking innovative and cost-effective solutions to meet their creative needs.

Whether you're a creative team or a marketer in search of an effective answer to fulfil your graphic design requirements, partnering with Brandripe will be one of the smartest (and most important) decisions you make for your business.
We are a leading creative services provider on a mission to deliver high-quality, efficient, and cost-effective design solutions. And if you need convincing, in this article we will unveil the key strengths and unique offerings that make Brandripe the trusted choice for some of the most prominent brands in the market.

Why Brandripe?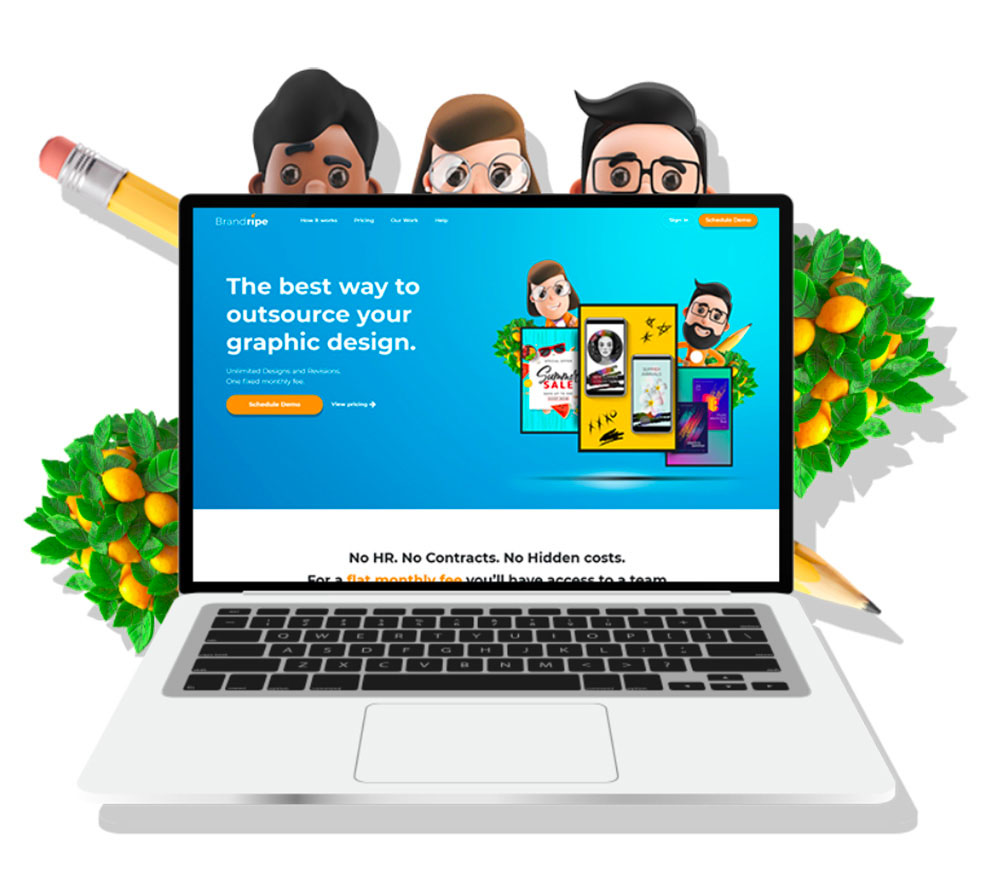 We make a good argument (or several) as to why you should work with us. Image: Brandripe
At Brandripe, we're committed to delivering exceptional services that meet and exceed our clients' expectations.
Our dedication to excellence extends to every aspect of our work, and we believe in setting the standard for quality and efficiency in the creative industry.
Here's how we do it:
1. Speedy delivery: Turning creative visions into reality – fast
In today's fast-paced business environment, time is often of the essence. Brands need their creative projects completed swiftly without compromising on quality. At Brandripe, we understand the urgency of our clients' creative needs.

That's why we take great pride in our guaranteed promise of a 24- to 48-hour turnaround time.
Our streamlined design process, coupled with the expertise of our talented designers, enables us to deliver high-quality design work in record time.
We know that meeting tight deadlines can be challenging, but we rise to the occasion, ensuring that your projects are completed promptly and efficiently. Whether it's a logo design or marketing collateral, we have a proven track record of delivering on time, every time.
2. Consistent quality: Never lose identity over efficiency
While speed is crucial, it should never come at the expense of quality. At Brandripe, we are committed to maintaining the highest standards of quality in every project we undertake. As your partner, we fully understand that your brand's reputation is on the line, and we take that responsibility seriously.
Led by Abby Alkury, a seasoned industry expert with over 10 years of experience in delivering successful creative services, our dedication to consistent quality begins with our rigorous designer selection process.
On top of that, our team comprises experienced graphics designers who possess the skills and creativity necessary to meet your unique requirements.
Additionally, we employ a stringent quality control system that evaluates every design for precision, creativity and adherence to your brand's identity.
3. Affordable and predictable pricing: No surprise fees!
Cost is a significant factor in any business decision, and we understand the importance of budget predictability. That's why we've designed our pricing structure to be not only competitive but also transparent and predictable – we promise you that you will not be caught off-guard, ever!
With Brandripe, you'll never encounter hidden fees or unexpected costs. Our pricing model is straightforward, allowing you to choose from a range of packages that suit your budget and project requirements. This transparency empowers you to plan your creative projects with confidence, knowing that you won't face any unwelcome surprises along the way.
You can start with the flexibility of a month-to-month subscription plan, or consider the advantages of quarterly or annual subscriptions, tailored to accommodate your design and budgetary preferences (note that pricing structures may differ based on markets).

Find out more here – or reach out to us if your team requires something bespoke.
4. Wide range of design skills and capabilities: Versatile and adaptable
Creativity knows no bounds, and neither do our design capabilities. Brandripe boasts a wide range of design services to cater to your diverse needs. Whether you're looking for social media graphics or packaging design, we have the skills and range to bring your vision to life.
When creating artwork for our clients, we dive in deep to understand not just what the end message needs to convey, but also how the intended audience will digest it. That's why we call ourselves your creative partner as we are able to take into consideration your objective and also provide input on the best ways to shape it – be it in dynamic or static formats.
Here's a full list of what we can do for your business and brand!
What sets us apart


Unlimited requests and revisions, and fixed monthly fee aside, Brandripe has more to offer. Image: Brandripe
You know our strengths, but these are truly what makes us unique.
What sets Brandripe apart from the competition is more than just our speed, quality, and affordability. It's our unique approach to creative services that truly makes us stand out.
Here's what our clients love:
Reliable support

: At Brandripe, we prioritise client satisfaction above all else. Our dedicated customer support team is always ready to assist you, providing prompt responses to your queries and ensuring a seamless experience throughout your project.
Choose Brandripe for your creative needs
In a world where design and branding can make or break a business, Brandripe can be a trusted partner to elevate your brand to new heights. Our unwavering commitment to speedy delivery, consistent quality and affordable pricing coupled with versatile capabilities make us the preferred choice for brands worldwide.
Don't compromise on your brand's creative vision. Choose Brandripe and experience the difference.
So, where to next? Our website to learn more about our services and how we can help you achieve your design goals, or schedule a 15-minute VIP demo session with our team where we'll take you on an exclusive behind-the-scenes on how it will work!
Otherwise, if you already have a full list of creatives you'd like for us to do, drop us a line at hi@brandripe.com and a representative will get back to you with next steps!
We look forward to hearing from you!