Running a business is no easy feat, and with rising competition, it can be especially challenging for businesses to stay afloat, let alone keep up with trends to beat the competition.
The statistics by the Department of Statistics Malaysia (DOSM) state an increase in business registrations between 2021 to 2022, however, it also revealed a 7.5% increase in business closures during the same period.
So, the popularity of AI (artificial intelligence) as a partner to support business needs shouldn't come as a surprise. Although, it might be surprising to know that AI provides an incredible future for the graphic design industry – and no, not by replacing humans, but by collaborating and improving automation for business needs.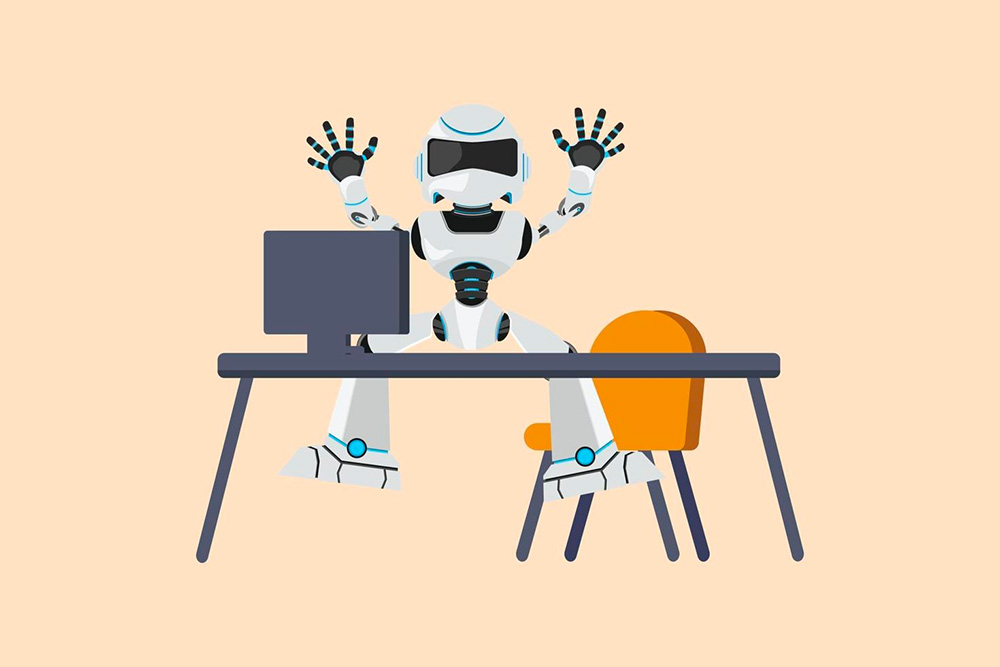 Will AI replace graphic designers? Respondents believe otherwise. Image: Vecteezy
A study by Engine Creative supports this notion as 76.3% of respondents (creative industry talents) believe that AI will support them in the future while only 6.2% believe that AI threatens their job security.
As amazing as AI is, it's certainly not ready to replace humans especially if you've toyed around with ChatGPT and Bard lately.
By the way, we've written an article on 5 ways you can use ChatGPT for your product design here, so be sure to check that out if you haven't experimented with AI yet!
There are two aspects that are lacking in AI – empathy and context. When you are designing for your business, it's crucial for your designs to be able to connect with your customers in an in-depth manner that only humans can understand.
The benefit of using AI is its role in automating menial and repetitive parts of the design process. This way, the graphic designer is freed up to focus on the creative and strategic aspects of their work.
In this article, we will explore how AI is changing graphic design and key things to consider about AI in Graphic Design.
An example of an AI-assisted design tool in action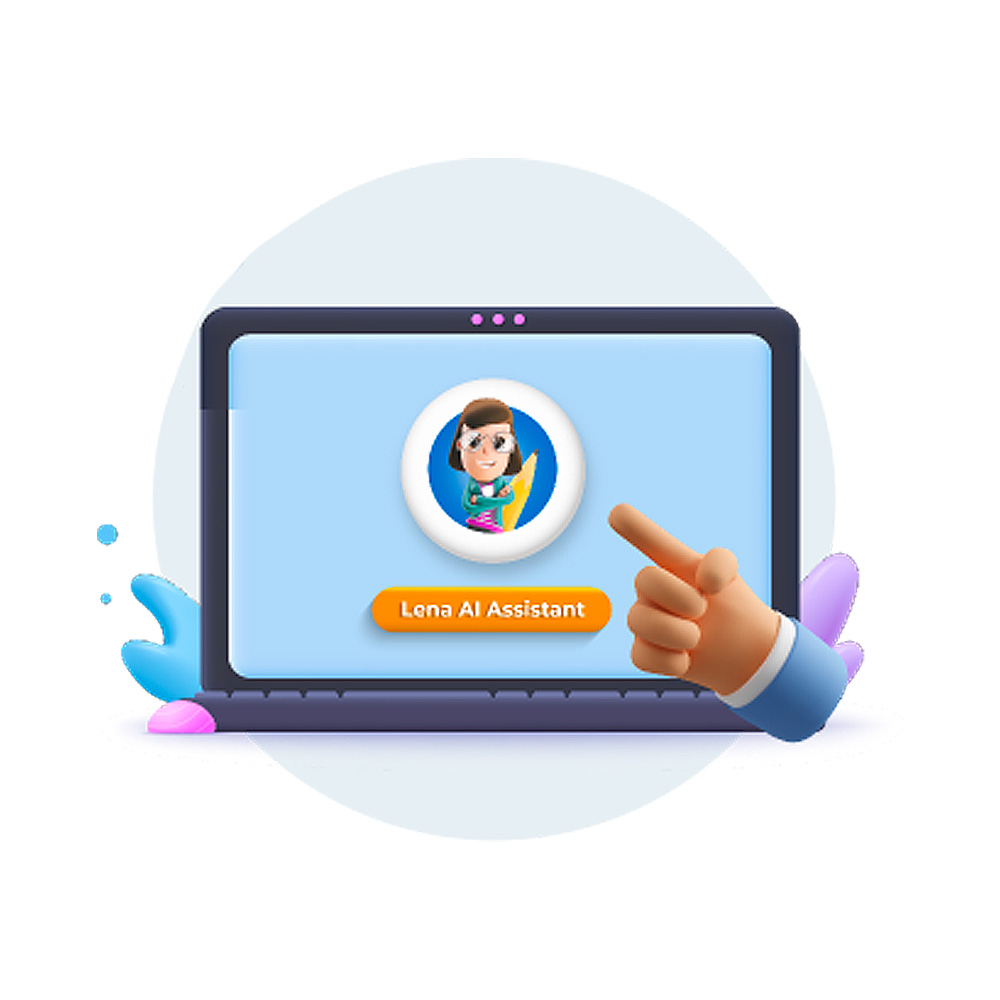 Brandripe has an AI tool called LENA to help with automation. Image: Brandripe
A study by the University of Lapland found that 40% of graphic designers believe that communication problems with clients are the main reason for project failures. Even with our own experience, we noticed that initial stage communication between designers and their clients is crucial to ensure high-quality visuals are produced in a timely manner.
As a result, we recently launched our own AI system, LENA, to help businesses create design briefs and generate copies. Businesses simply need to provide some key details about their needs and preferences, and LENA will provide personalised recommendations for briefs and copies that resonate with their target audience.
LENA's recommendations are then reviewed and approved by our team of industry-leading global designers.
With LENA, our customers are able to quickly provide complete and accurate briefs to minimise errors and reduce turnaround time. This is because LENA is a language model with machine learning capabilities which allows an understanding of complex concepts and generates texts that are clear and to the point.
You will be presented with multiple variations of a brief or copy, so that you can select the best one to suit your business needs.
To us, LENA just marks the beginning to showcase our commitment to innovation and providing the best experience for our customers to meet their design needs.
LENA is constantly learning and improving, so you can always rely on it to give you fresh ideas and get the best possible results. LENA is available with your Brandripe subscription which is merely a fraction of the cost of hiring an in-house human graphic design, a freelancer or an agency!
Other AI tools for graphic design
There are a number of AI tools available for graphic design, each with its own advantages and disadvantages. The following are well-known tools in the industry:
Adobe Sensei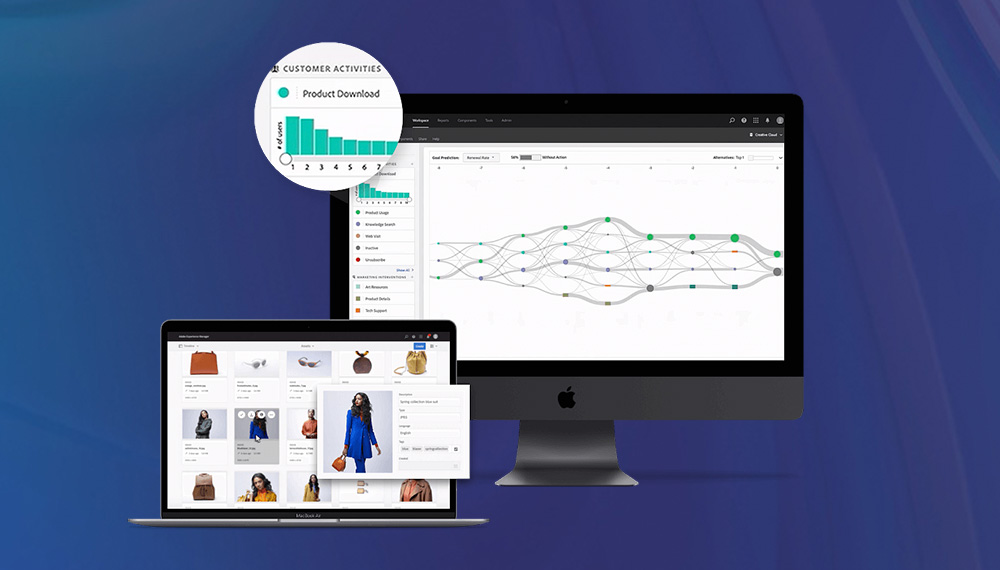 A glimpse into the Adobe Sensei interface. Image: Adobe.com
If you're familiar with Adobe Creative Cloud, you've probably heard of Adobe Sensei. Sensei is a suite of AI tools that are integrated into many of Adobe's Creative Cloud applications, including Photoshop, Illustrator and InDesign.
Let's explore how Adobe Sensei can be used for graphic design:
Automating tasks:

Sensei can be used to automate tasks like resizing images, removing backgrounds and creating colour palettes. This can save you a lot of time and effort, so you can focus on the more creative aspects of your design work.

Generating creative ideas:

Sensei can be used to generate creative ideas for your designs. For example, it can suggest new colour palettes, layouts and typography choices. This can help you break out of your creative rut and come up with new and innovative designs.

Improving the quality of your designs:

Sensei can be used to improve the quality of your designs by detecting and correcting errors, such as misalignments and typos. It can also help you create more realistic images by adding depth and shadows.
Canva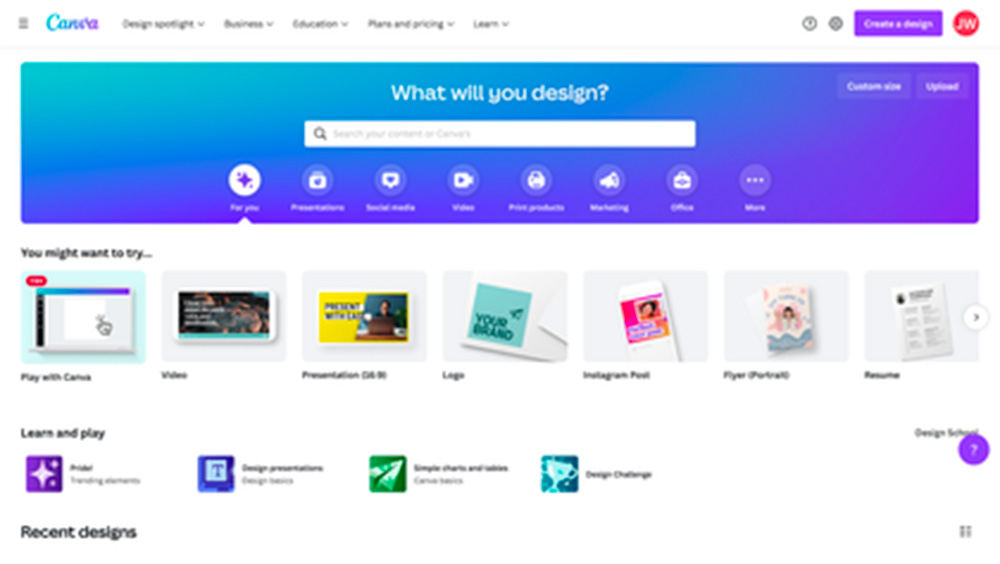 Canva is one of the most user-friendly designing tools available at the moment. Image: Wikipedia
Canva is an AI-powered design tool that uses drag-and-drop functionality to make it easy to create professional-looking mockups and prototypes. Here are a few AI features available on Canva:
Canva Magic Design:

This feature uses AI to suggest relevant design templates to users based on their needs. For example, if you upload a photo of a product, Canva Magic Design will suggest templates for product posters, social media ads and website banners.
Canva AI Photo Editor:

This feature uses AI to improve the quality of photos, such as by adjusting brightness, contrast and saturation. This is a great way to make your photos look more professional without having to spend time editing them manually.
Benefits of AI in the graphic design industry
Perhaps at the beginning of this article, you might have caught yourself thinking this might be a feature about why AI is the enemy that's stealing jobs from creatives, yet the statistics gave us a completely different narrative.
This is because AI provides a multitude of benefits to creatives and it does outweigh the cost or perceived threat by a landslide. The benefits include:
Saving time
With our own experience of implementing LENA, we have noticed a significant amount of time that has been saved for our customers when briefs and copies are generated quickly for them. Such a task would normally take hours of discussion and debates, but now it all can be done within minutes. Even using other AI design tools for menial tasks such as background removal, basic photo editing and more, is helpful in producing visuals efficiently.
Data-driven designs


The beauty of AI is its reliance on datasets and machine learning to create the most optimised visual possible. If you are working on a project that requires colour palette matching, using AI would match the hex code or RGB value and create complementary or analogous colour sets much faster so that designers can focus on the other important details of the visual.
Cost-efficiency


One of the most important upsides to automation and saving time is that it consequently saves money too. You can get more visuals for less money and less time needed while maintaining the quality of the visuals.
Considerations surrounding AI in graphic design
The discourse surrounding AI in the creative industry is often heated, especially when it comes to the ownership of designs.
As tools and software that can autonomously generate graphic designs become more prevalent, there is a growing concern about the potential for inadvertent appropriation from artists.
One way to navigate this issue is to be judicious about the designs that you use as inputs for AI.
If you are using designs for which you do not have rightful ownership, you could be at risk of infringing on someone else's intellectual property rights. It is therefore advisable to select designs with established ownership, as this will help to protect you from unintended conflicts.
In addition, it is important to note that all design work done by Brandripe will be fully owned by you. We will be happy to provide you with the source files at no extra cost.
This demonstrates our commitment to transparency and ensuring that you have complete control over the creative output.
What does the future hold for AI in graphic design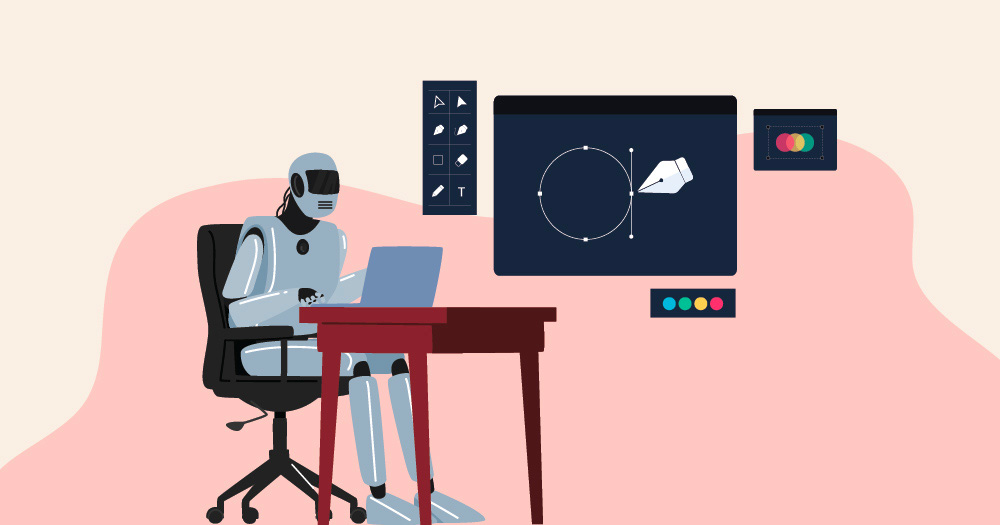 Ultimately, humans are still needed despite the advancement with AI in the graphic design industry. Image: Penji
The future of AI in graphic design is a hotly debated topic. Some experts believe that AI will completely revolutionise the field, replacing human designers with machines. Others believe that AI will simply be a tool that graphic designers can use to improve their work.
There are several ways that AI could impact the field of graphic design. For example, AI could be used to automate tasks such as creating wireframes, generating colour palettes, and optimising images. AI could also be used to generate creative ideas and concepts.
In some cases, AI could even be used to create fully autonomous designs. However, it is unlikely that AI will completely replace human designers in the near future. Human designers will still be needed to provide creativity, insight and judgment.
Ultimately, the future of AI in graphic design is still uncertain. However, it is clear that AI has the potential to revolutionise the field. Graphic designers who embrace AI will be well-positioned to succeed in the years to come.
If you're looking for a team of experts who are embracing AI to provide high volume, low cost, and high-quality visuals, then you should check out Brandripe.
We use AI to automate tasks such as creating wireframes, generating colour palettes and optimising images. This frees up our human designers to focus on more creative and strategic work.
As a result, we can provide our clients with high-quality visuals at a fraction of the cost of traditional graphic design agencies.
To learn more about how Brandripe can help you with your design needs drop us a line at hi@brandripe.com or book a 15-Minute VIP Demo Call! We'd be more than happy to talk you through how we do work around here!